Teachers with individual educator accounts can create classes for their students. With a class, you can make assignments and monitor your students's progress.
NOTE: This article is for teachers with individual accounts as part of a School or Homeschool subscription. If you have a Teacher Plan, dashboard features will not be available. For more information, see Teacher Plans.
Check out our quick-start guide here!
IN THIS ARTICLE
What you'll Need
Roster with Integrations
Create Classes with Codes
Next Steps

What you'll Need
A School, District, or Homeschool Plan including at least one of the following products: BrainPOP, BrainPOP Jr., BrainPOP ELL, BrainPOP Science
You have already created your individual educator account: Create an Individual Educator Account
To roster classes automatically, your school or district administrator will need to set up a sitewide integration. Find out more: Get Started with Integrations
Roster with Integrations
If your school uses our integrations with Clever or Classlink Launchpad with OneRoster API, your classes will be automatically rostered and updated. Find out more in these articles:
If your school uses our integration with Google and you use Google Classroom, you can import your classes on demand. See how to do that here:

If your school uses an LTI integration with an LMS or other learning platform, you can create classes with a Class Code. Find out more in this article:
Create Classes with Codes
Here's how to create your own classes in BrainPOP with Class Codes:
Log in to your individual teacher account.
Click Dashboard at the top of the screen.
Click New Class.




Choose a name and the grade level for your class, then click

Create Class.




When your class is created, a class code will be generated automatically.



Students will use the Class Code to join the class. To join your class, students should:
Click

Enter Code

at the top of the screen.

Enter the Class Code and click

Submit

.
Here's what they will see.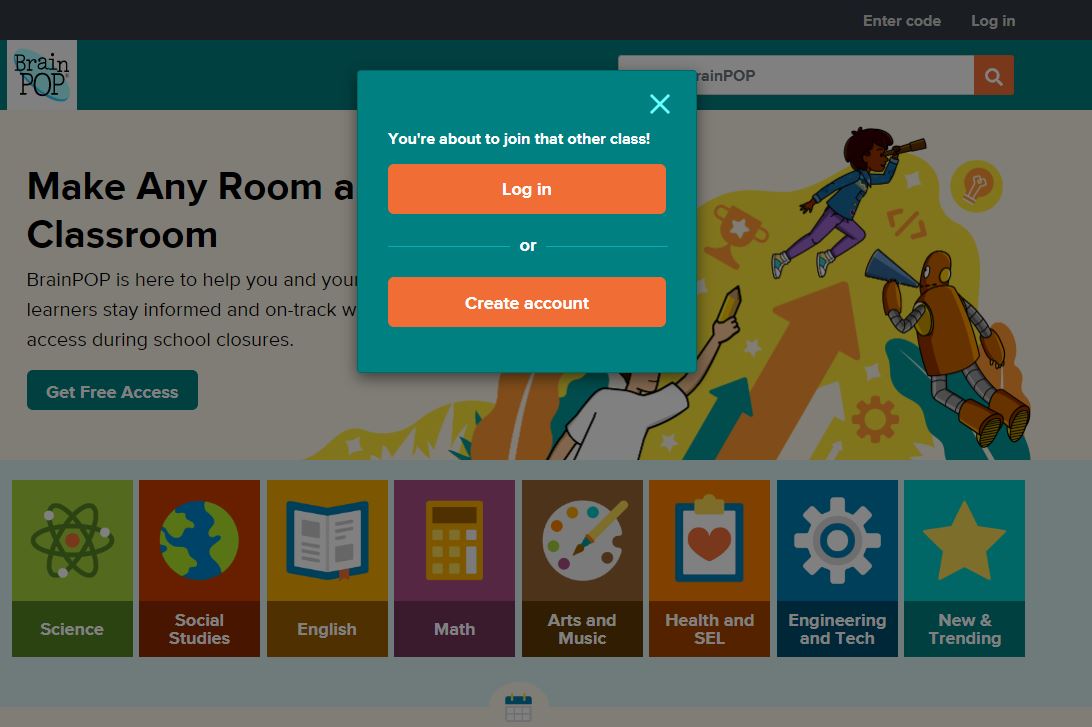 If students are creating their individual accounts for the first time, they should click Create account and complete the form. We will only ask for first name and last name of the student and the username and password they want, no email address.

If students already have individual BrainPOP accounts, they should click Log In and enter their personal username and password.
Next Steps
Now that you've created your classes, you can make your first assignment for your students.