Once you are set up with your own teacher account through Schoology, Canvas, or other LMS or learning platform, here is how you can set up a new class and help students set up a new account or connect an existing account.
IN THIS ARTICLE
What You'll Need
Creating Classes
Creating and Linking Student Accounts
Next Steps
Frequently Asked Questions
What You'll Need

A paid School or District plan including at least one of the following products: BrainPOP, BrainPOP Jr., BrainPOP ELL, BrainPOP Science

Your admin has set up one of our LTI integrations
You've created your teacher account with LTI
Creating Classes
If you haven't created your first class yet, here's how:
Log in to your individual account.
Click

Dashboard

at the top of the screen.




Click

New Class.




Create a class name. A class code will be automatically generated for you.




Click

Create Class.
Once you do this, you'll get a pop-up confirming the successful creation of the class.



Students will use the Class Code to join your class, so have it ready to share with them.

They are now ready to create their accounts and join the class you have created.
Creating and Linking Student Accounts
When your students log in through your LMS or learning platforms, they can expect to take the following steps:
They will be prompted to enter a Class Code, which you received when you set up the class as outlined above.




Enter the code and click Submit. The student account will be automatically created and linked to their LMS or learning platform login. They are now able to log in via the LMS or learning platform without needing an additional username or password.
Next Steps

Now that you've set up a class and student accounts, you can create assignments for your students to complete.
Frequently Asked Questions
What if a student already has a BrainPOP individual student account? Can the integration match the existing account to the application being integrated?
Unfortunately, no. We don't support matching student accounts with LTI tools at this time. Creating a student account in the integration will not match to an existing account the student may already have.


Can a student be in multiple classes at once?
Absolutely. There is no maximum number of classes a student can join. At any time, a student logging in with their LMS or learning platform and click 'Enter Code' to enter a class code for a new class, and join it.


I already created my class but I can't find the Class Code. What do I do?
If no students have joined your class yet, go to your Dashboard and, under My Classes, click the name of the class you're looking for. The Class Code should be on the next page.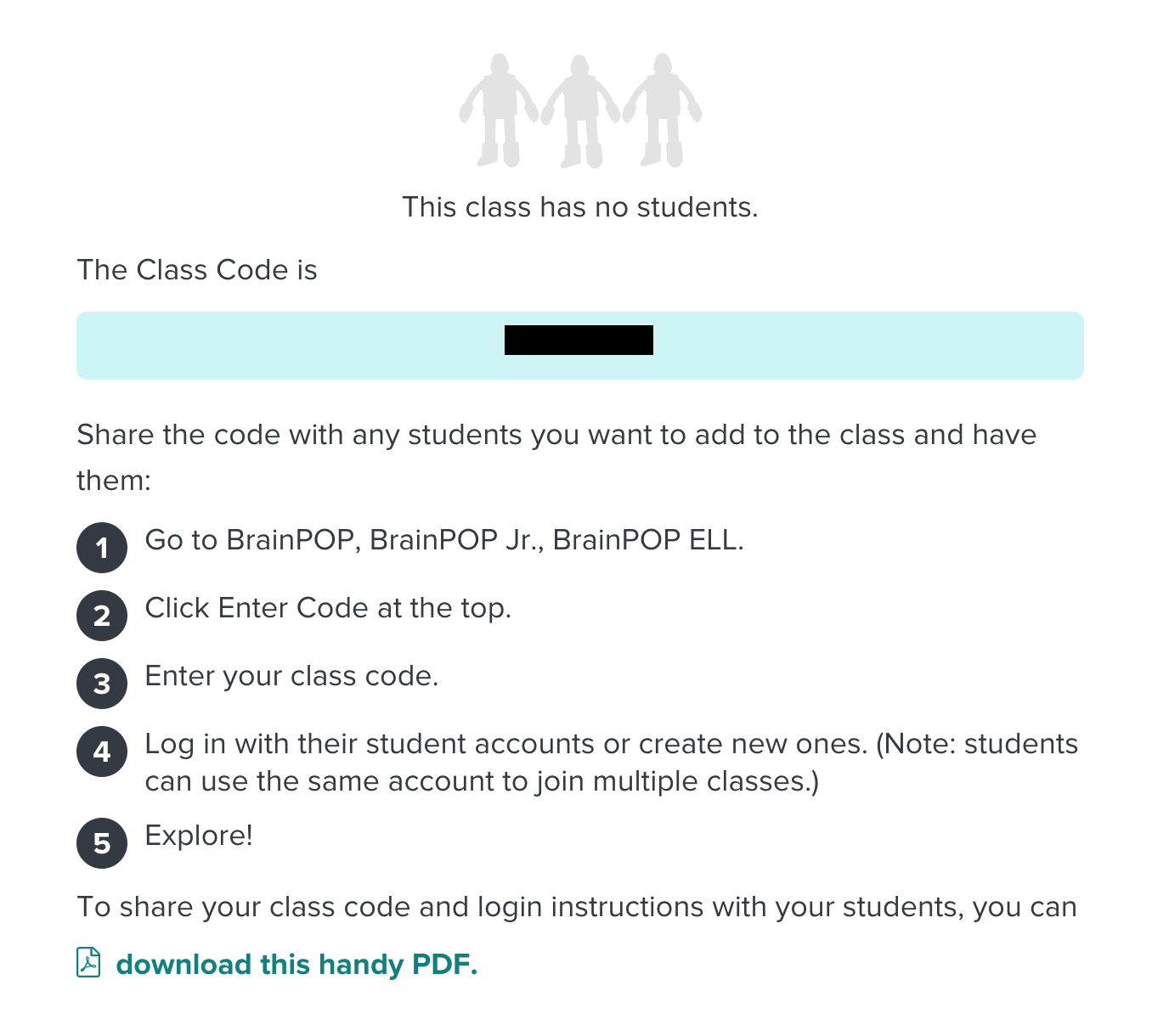 If students have already joined your class and you need the code for additional students, you can select the class and then go to Class Settings. The code will be there in a blue box.

Can students join classes in multiple schools?
Students can only be enrolled in classes in one school at a time. If a student attempts to join a class in a different school, they will receive a warning to let them know that changing schools will remove them from their existing classes at the original school. If a student moves schools, the information lost on transfer cannot be recovered.
What happens if a student clicks 'I don't have a code' when setting up?
The student will be logged into a shared school or districtwide account, which will provide them with access to some features (like movies and quizzes), but will not track their progress, activities, or allow them to view or take assignments. These features all require the creation of an individual student account.


Do you support co-teachers with LTI integrations?
Yes, the integration will allow co-teachers from the same subscribing schools to share class periods.