IN THIS ARTICLE
What you'll Need
Logging in through Clever
Next Steps
Frequently Asked Questions
What you'll Need
A paid School or District plan including at least one of the following products: BrainPOP, BrainPOP Jr., BrainPOP ELL, BrainPOP Science
Your Clever admin has set up the Clever integration for your school or school district.
Logging in through Clever
Teachers and students have two entry points for SSO with Clever:
Through the BrainPOP Homepages
Go to BrainPOP, BrainPOP Jr., BrainPOP Science or BrainPOP ELL
Click Log in in the top right

You'll notice there are two drop down options once clicked: "I'm a kid" and "I'm a grown-up". Please select the option best fitted to you.


Choose Log in with Clever
Enter your Clever login credentials and click Log in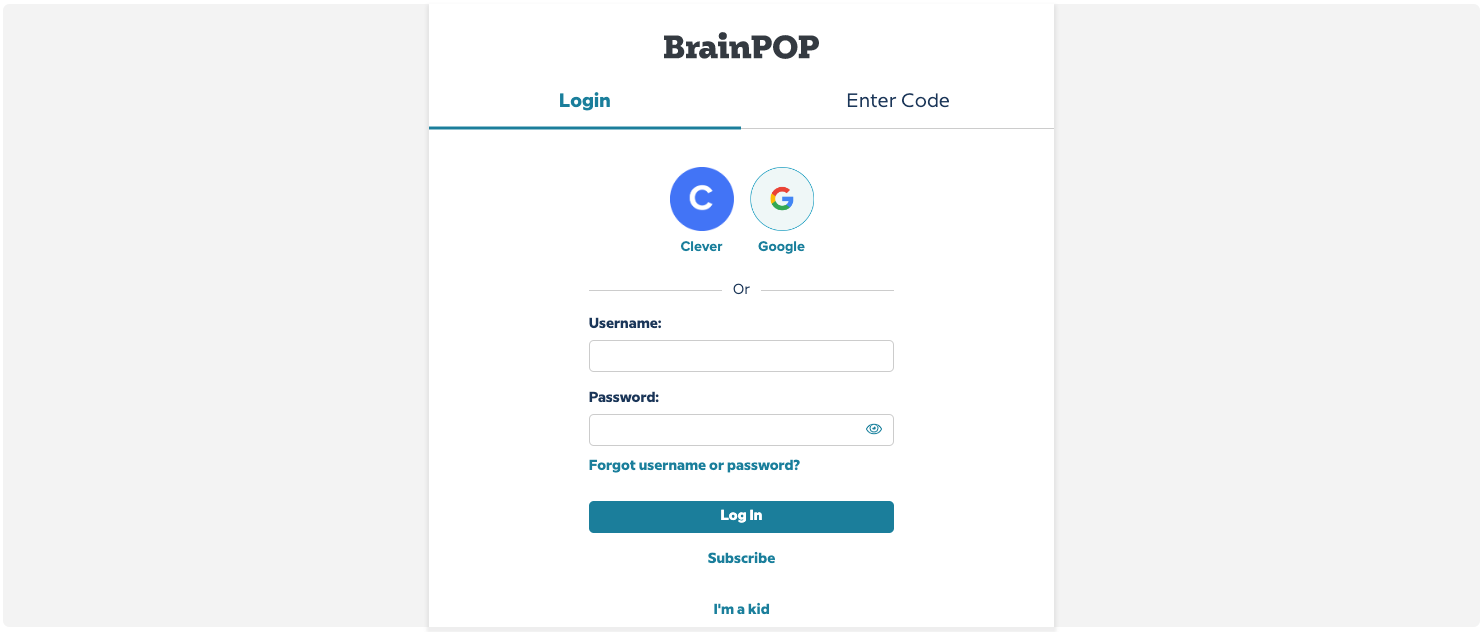 Through the Clever Dashboard
If you usually use your Clever Dashboard or custom district portal to access resources, look for the following BrainPOP icons to launch.
​​
​​

​​​​​​
Next Steps
Now that you've logged in for the first time via Clever SSO, you can begin creating assignments for your students. If you have any trouble accessing your account through Clever, this article may help: Troubleshoot Clever Issues.
Frequently Asked Questions
I have a class that is not shared in Clever that I would like to have show up in BrainPOP. How can I accomplish this?
Your Clever administrator can create custom class sections in Clever that will appear in Clever and BrainPOP. Just send this link to them and they will be glad to assist.

I am a co-teacher in a class, the class is showing up on the primary teacher's class and not mine. What can be done to fix this?
We do support co-taught classes, as long as both teachers belong to the same school as the class and students. If your co-taught classes are not appearing in your teacher dashboard, reach out to your districts Clever admin about including these classes in the data being synced with Clever.
I am listed as a staff member in Clever, not as a teacher. What can I do to get access to BrainPOP through Clever?
Staff shared with us in the BrainPOP Suite and SSO apps should be able to access BrainPOP through Clever and have the same experience as teachers. If you are unable to access BrainPOP via Clever, reach out to your school or district admin; or, if you are an admin, contact us!
Can I change my Clever-synced class names in BrainPOP?
No. If you update your Clever-synced Class name in BrainPOP, the name will revert back with the next nightly sync. If you need the class name adjusted, you should contact your district's Clever administrator.
I'm a teacher who doesn't have classes in my district's SIS. Can I log into BrainPOP?
Yes. As long as you have a teacher role in Clever at a school with a BrainPOP plan, you should be provisioned into BrainPOP automatically.