This article walks teachers through how to create classes and students when using a G Suite integration.
IN THIS ARTICLE
What you'll Need
Importing Class Rosters from Google Classroom
Updating Class Rosters with Google Classroom
Adding Students with a Class Code
Logging in with G Suite
Next Steps
Frequently Asked Questions
What you'll Need
Importing Classes from Google Classroom
The first time you log in to BrainPOP from the G Suite SSO app as a teacher, you will be prompted to import any Google Classroom rosters you may have.

Importing classes from Google Classroom will create corresponding classes in BrainPOP and rosters all the students in those classes to SSO via G Suite automatically.

If you do not use Google Classroom, you can skip this section and read the section on Adding Students with a Class Code.
Sign in to BrainPOP using G Suite for Education by clicking Sign in with G Suite for Education on BrainPOP, BrainPOP Jr, or BrainPOP ELL. Alternatively, you can use the Google Launcher in Google Apps for all three sites.

Click Dashboard.

A dialog box invites you to import classes. Importing classes from Google Classroom will create corresponding classes in your individual educator account and create SSO accounts for the students.

If you decide not to import classes when prompted, you can always import them later by selecting Import New Classes in your dashboard.

Select the classes that you would like to import.

NOTE: It's very important that you check to ensure that the classes you import only contain students, and do not contain any staff. If you import a class that contains teacher or staff members, you should delete the student accounts created from your roster. Otherwise, the student identity will block the staff member from successfully logging in with G Suite SSO.

Confirm the class selection(s). You can Continue to proceed or Go Back to choose again.

Click Finish Import and view your class in Class Settings.

After you have imported your class, you can view your class roster at any time from the Teacher Dashboard.
Updating Class Rosters with Google Classroom
If your Google Classroom roster changes, you can update the corresponding class in BrainPOP at any time.
Click Dashboard.

Select All Classes.

Click the class you wish to update.
Click View Students.
Click Update Class Roster.



Follow the on-screen instructions to update the roster. The new import will add any additional students that have joined your class since your last import or update. It will not remove any students from your class that do not appear in the Google Classroom roster.
Adding Students with a Class Code
If your school or district is set up with a G Suite integration and do not use Google Classroom to roster your classes, you can also create a class manually in G Suite.
If you haven't created your first class yet, here's how:
Log in to your individual account.


Click

Dashboard

at the top of the screen.



Click

New Class.



Create a class name. A class code will be automatically generated for you.



Click

Create Class.


Once you do this, you'll get a pop-up like this one.


Students will use the Class Code to join your class, so have it ready to share with them.

Ask students log in with G Suite (see Logging in with G Suite section below).


They will be prompted to enter a Class Code.


Enter the code and click Submit. The student account is automatically created and linked to G Suite. The student can log in with G Suite, without an additional username or password to remember.
Logging in with G Suite
Students can log in from the BrainPOP homepages by choosing 'Log in' and then selecting 'G Suite for Education'.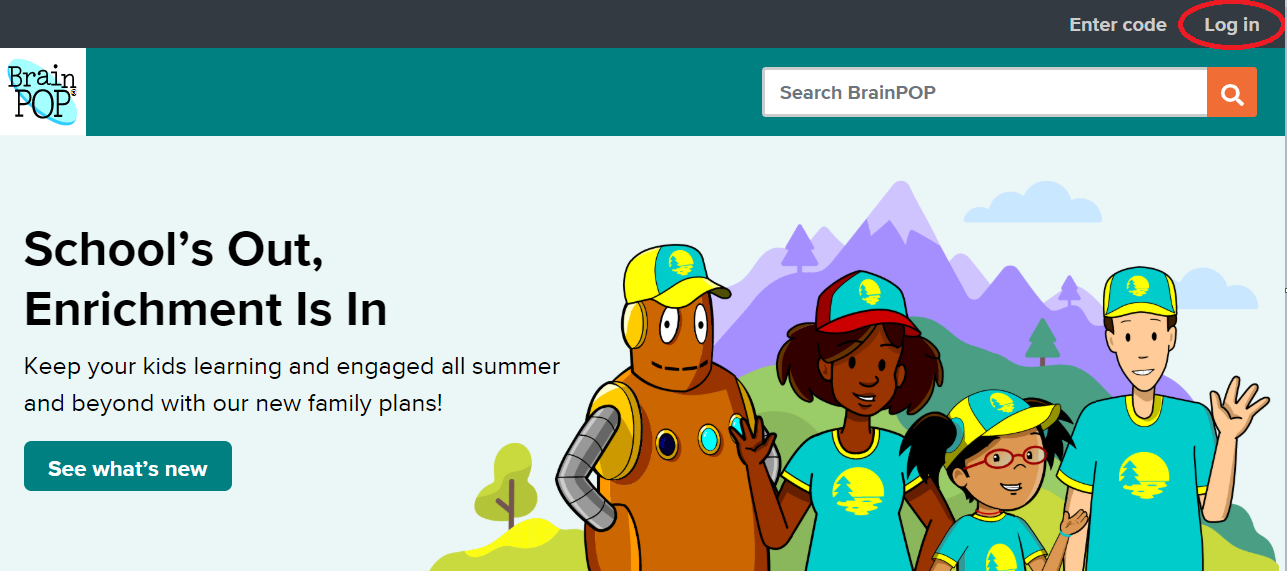 ​

They can also log in from the Google waffle when they are using G Suite apps like Calendar, Mail and Drive.

Select the waffle icon and then scroll to find BrainPOP, BrainPOP Jr., or BrainPOP ELL in the Marketplace apps list.


Next Steps
Once your classes are created and students have joined, you can start creating assignments. If you have any difficulty signing in, visit our article on troubleshooting G Suite.
Frequently Asked Questions
What if a student already has a BrainPOP individual student account? Can this integration match that account to G Suite?

Unfortunately, no. We don't support matching student accounts with G Suite at this time because we collect very limited student data. Creating a student account in G Suite will not match to an existing account the student may have.
Can a student be in multiple classes at once?

Absolutely. There is no maximum number of classes a student can join. At any time, a student logging in with G Suite can click 'Enter Code' to enter a class code for a new class, and join it.
Do you support co-teachers with Google Classroom?

Not at this time. Each roster that is imported can only be imported once, so if you are a co-teacher attempting to roster a class you share with another teacher in Google Classroom, you will receive an error message that the class has already been imported. You will need to duplicate the Google Classroom class in order to roster the same students into BrainPOP.

Can students join classes in multiple schools?
Students can only be enrolled in classes in one school at a time. If a student attempts to join a class in a different school, they will receive a modal warning to let them know that changing schools will remove them from their existing classes at the original school. If a student moves schools, the information lost on transfer cannot be recovered.
I already created my class, but I can't find the Class Code. What do I do?
If no students have joined your class yet, go to your Dashboard and, under My Classes, click the name of the class you're looking for. The Class Code should be on the next page.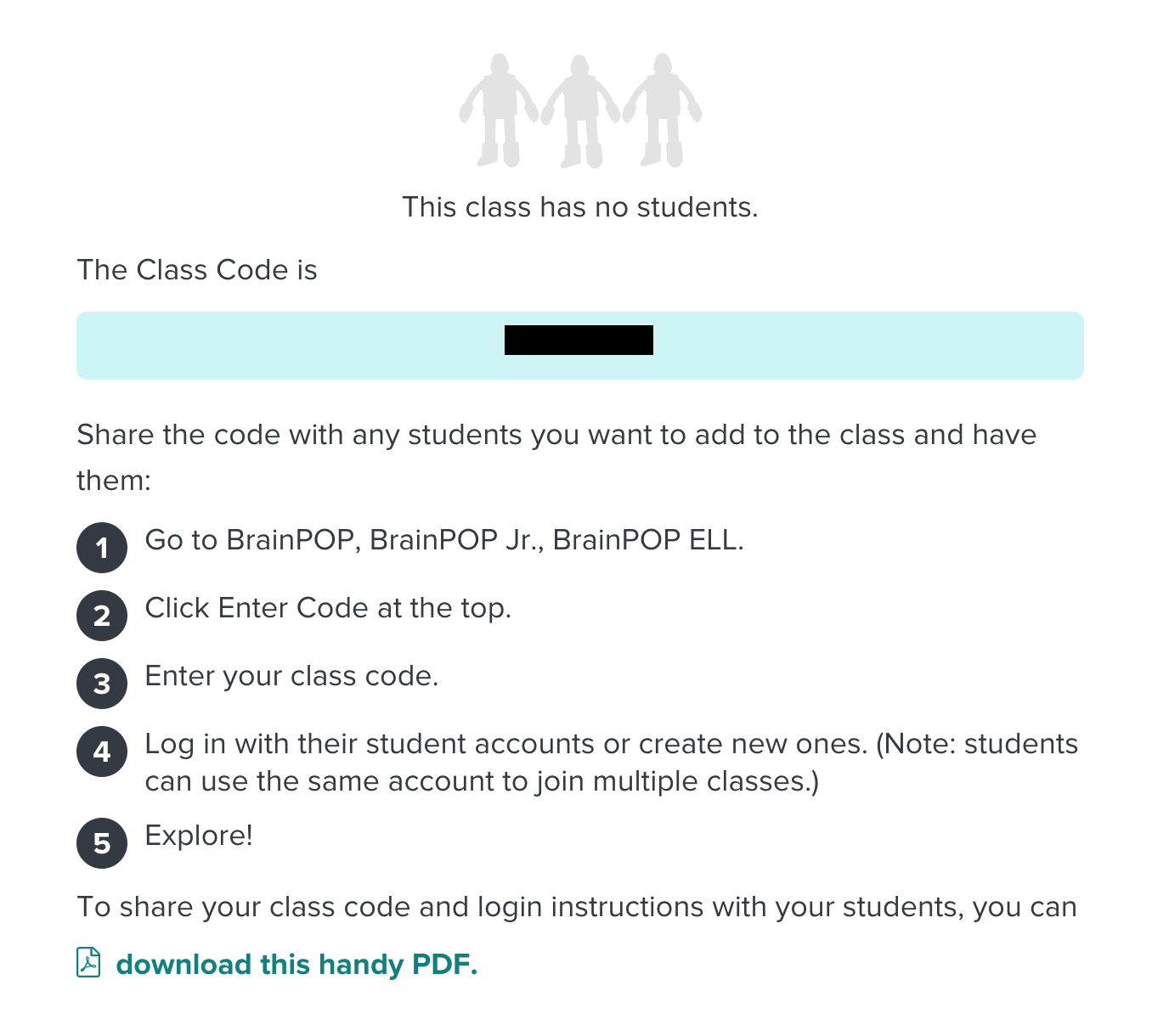 If students have already joined your class and you need the code for additional students, you can select the class and then go to Class Settings. The code will be there in a blue box.

What happens if a student clicks 'I don't have a code' when setting up?
The student will be logged into a shared school or districtwide account, which will provide them with access to some features (like movies and quizzes), but will not track their progress, activities, or allow them to view or take assignments. These features all require the creation of an individual student account.