Teachers can assign specific BrainPOP features to their classes as graded or ungraded work.
IN THIS ARTICLE
What You'll Need
Assigning a Feature
Assigning Multiple Features
Sharing to Google Classroom
Next Steps
Frequently Asked Questions
What You'll Need
Assigning a Feature
Choose a feature to assign and navigate to the feature page.



Click the orange

Assign button on the feature page.


Fill in key information about your assignment including a title and the class that should receive it. You can also assign to specific students, add instructions, add a due date, or schedule the assignment for later if you wish.



Click

Assign to send your single-feature assignment to your students. Continue to the next section of this article to learn how to add more features to your assignment.



Assigning Multiple Features
Once you have chosen your first feature as shown in the previous section, you can use the Assignment Builder to add more to your existing assignment. You can even mix and match features from different topics.
To add more features after you have added your first feature, click Add more features just beneath the Assign button.




Select the additional features to include in the assignment. Clicking +

Add Topic allows you to include features from other topics.


Click Save

to update the existing assignment. Or, click

Next to make further changes to the title, instructions, and order.





Edit key information including your assignment's title, instructions, and feature order. . To change the order of features in the assignment, click and hold the three lines next to the feature and drag it to your chosen place in the sequence.




When you have finished editing, click Assign to send the assignment to your students. You may also click Save to create a draft assignment that you can return to later to make further edits.


After you have saved or assigned your assignment, you'll have the option to View Assignment, copy a link of the assignment to embed the assignment in another platform, and to Duplicate Assignment. Duplicating an assignment will allow you to use the same assignment with another class.



Sharing to Google Classroom
If you use Google Classroom to post assignments for your students, you can share any BrainPOP assignment directly to your classroom! This feature will automatically create an assignment in Google Classroom which links to your BrainPOP assignment. Here's how:
Create an assignment on your BrainPOP dashboard, as shown in the steps above.
Once you have completed creating the assignment in the Assignment Builder, select 'Share to Google Classroom'.




The Google Classroom assignment builder will open, with the link to your assignment, as well as the instructions, date and topics you set, pre-populated.
Edit the assignment as desired and click Assign.
You can also share an assignment you have already created, directly from your dashboard:
Go to your teacher dashboard in BrainPOP and locate the assignment you want to share
Click the three dots at the right end of the assignment box



Select 'Share to Google Classroom'
On the panel that pops up, click 'Share to Google Classroom' again to continue


The Google Classroom assignment builder will open, with the link to your assignment, as well as the instructions, date and topics you set, pre-populated.
Edit the assignment as desired and click Assign.
When your students click the link, they will be asked to log in and given the option to enter a username and password, sign in with Clever, or sign in with Google. They should use whichever method they normally use to log in; so if your students normally sign in with Clever, they should still select 'Sign In with Clever' in this case, even though they are clicking a link from Google Classroom.
Once the student logs in, they will be redirected to the assignment page and can get started!
Please note: Any edits made to the assignment in Google Classroom will not sync back to your BrainPOP assignment. Grades are not passed back to Google Classroom from BrainPOP.
Next Steps
Now that you've created your first assignment, you can find out more about managing, editing, and grading assignments in Managing Assignments.
Frequently Asked Questions
Can I include features from multiple BrainPOP products in a single assignment?
If your school has a plan that includes BrainPOP, BrainPOP Jr., and/or BrainPOP ELL you can add topics and features from any of these products into the same assignment using the Assignment Builder. You can also add any GameUp title(s) to an assignment (for BrainPOP and/or BrainPOP Jr.).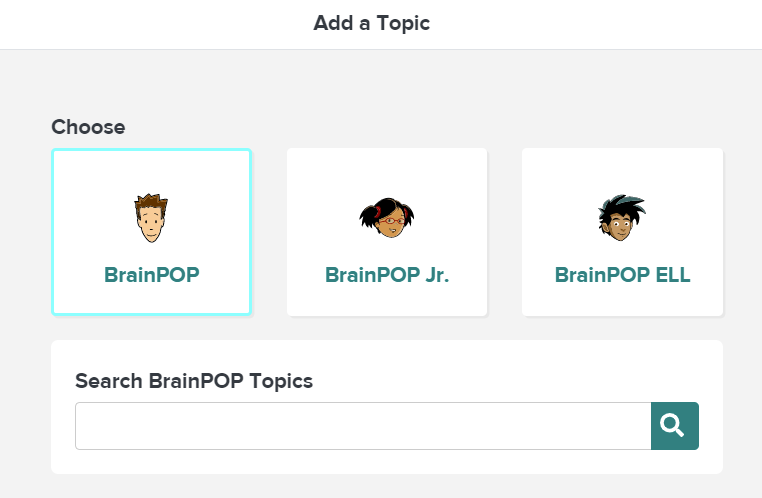 Can I save an assignment as a draft and assign it later?
Assignment Builder allows you to save your assignment at any point by clicking Save at the bottom of the screen. The draft will appear with your other assignments.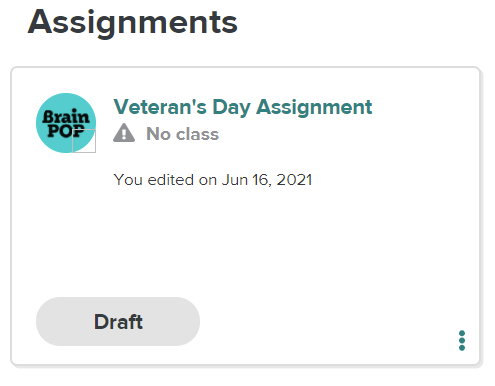 Can I assign features that don't include submittable work, such as a movie, Related Reading, or game without SnapThought?
Yes. When a student watches a movie, reads a Related Reading, or plays a game without SnapThought, the task will display as "Completed" in your class timeline. This does not include "Practice" or "Flash Words" for BrainPOP ELL.

Can I assign one assignment to multiple classes?
Yes. After you complete your assignment, when you save or assign it, you will get the option to Duplicate Assignment, which allows you to assign the same feature(s) to another class.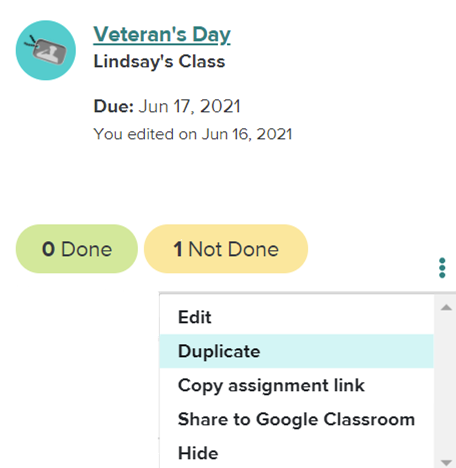 You will need to duplicate the assignment for each class that should complete the assignment. We recommend giving unique titles to assignments you duplicate, so it's easy to distinguish them in your Assignments view.