Educators with individual accounts can view assignments, track students' progress on assignments, and grade & give feedback on students work.

NOTE: If you purchased a Teacher Plan, assignment features are not available.

IN THIS ARTICLE
Viewing and Hiding Assignments
Tracking Progress on an Assignment
Editing an Assignment
Grading and Giving Feedback on Student Work
Viewing and Hiding Assignments
To view your assignments, log in with your individual educator account and click Dashboard at the top. You'll find your most recently created assignments on the Dashboard, but to view them all, click All Assignments.




Click the three dots next to an assignment to open a menu. You can

edit

the assignment

or

copy assignment link

and paste it in your LMS. You can also

hide

the assignment, which means it will be hidden from your assignments page. The assignment will not be deleted—student work will remain, and students will still be able to access the assignment. You can always view the assignment again by clicking

View Hidden

.

To see your hidden assignments, click View Hidden.




To unhide an assignment, click the 3 dots on the hidden assignment and click Unhide.


Tracking Progress on an Assignment
Click an assignment's title to view progress on the assignment. You'll see a table listing students' names, links to their work, and their scores.
If your assignment has multiple parts, you'll see them listed in a column on the left; click a specific part to view your class' progress on it.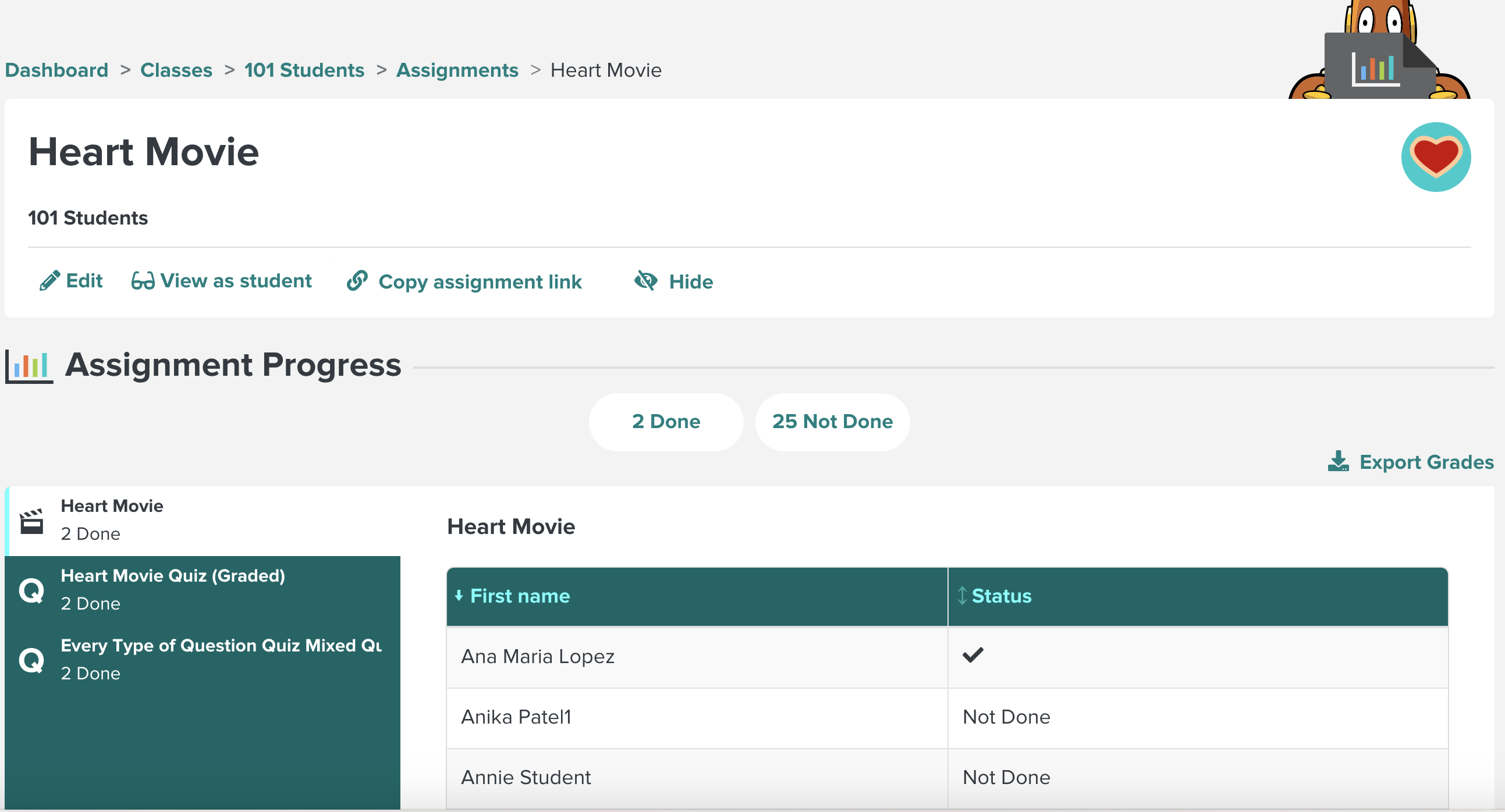 Editing Assignments
Click an assignment's title in your Teacher Dashboard then click Edit to make changes to an existing assignment.




When you click the Edit button, you will be brought to the below page where you can update the specific students assigned or add other classes to your assignment.




To add features to your assignment, click Add Features




Here you can select the features to add to the assignment. You can also click Add Topic to include features from other topics. When you are finished adding features, click Next or Write Instructions to add instructions to your assignment or remove features from your assignment.




To remove a feature from an assignment, click on the trash can next to the feature on the Write Instructions page.


Click Next or Assign to Students.


Click on the Update button on the Assign to Students to save the changes made to your assignment.


Grading and Giving Feedback on Student Work
You can give comments and scores on work students have submitted to you. Click an assignment straight from the Dashboard or click the title of a feature or assignment from the class page. You'll see a table listing your students with links to their work. This page also includes an Export Grades link to download a CSV of scores for the entire assignment.





Click

View Work

next to a student's name. You'll see the student's submission, along with a field to leave optional feedback and a numerical score. You can use the dropdown menu of students' names to navigate directly to their submissions and leave feedback.




---
Frequently Asked Questions
Can I delete an assignment from my students seeing it?
While you cannot delete an assignment entirely, you can unassign it to students, if you have decided you don't want them to complete the assignment.
When viewing the Assignment, choose Edit.
Find the class or students, and click the trashcan icon to unassign.
You will still see the results for any students who have completed the assignment, but any students who have not yet begun the assignment will not see it in their timelines.
Can I delete old assignments from my Teacher Dashboard?
You cannot delete assignments from your dashboard, but you can hide them. Hiding an assignment will not remove it from the student's view, but will remove it from your dashboard views. You can also unhide that assignment later, should you choose to view it.
Can I delete a student's assignment results when viewing a particular assignment?
You cannot delete a student's assignment results. The assignment results will only show the original score for the student's submission to the assignment.
Can I assign a student to retake an assignment?
If you'd like a student or students to repeat an assignment, you can create a new assignment for that student or students.
If I assign a student work, but they submit the work to me again after they originally submitted their assignment, where can I see those results?
The Assignment View and CSV download will only include the student's original score or results for the assignment. In the event that the student completes the activities again, you can find their results by going to view all work in that class, then viewing work by the activity, and looking for the free submissions, rather than the assignments.
What if my student did not receive the assignment?
If for some reason a student does not receive an assignment, you can assign it after the fact by editing the assignment itself. To do this, go to the Teacher Dashboard, click on the three dots next to the assignment, and click Edit.

Click Assign to specific students and select the student(s) who are missing. Then, click Update. The student(s) should now have the assignment.