This article walks administrators through how to set up a new Clever integration at your school or district.

IN THIS ARTICLE
What you'll Need
Requesting the BrainPOP Suite App
Matching Existing Accounts
Provisioning Accounts
Instant Login Apps
Next Steps
Frequently Asked Questions

What you'll Need
A paid School or District plan including at least one of the following products: BrainPOP, BrainPOP Jr., BrainPOP ELL, BrainPOP Science
Familiarity with the Clever integration features: Getting Started with Integrations
Clever admin access for your school or district's Clever account
Requesting the BrainPOP Suite App
The BrainPOP Suite app allows you to share roster data for the entire school or district across all relevant products. It eliminates the need to share rostering data with multiple apps. 
NOTE: The BrainPOP Suite App will remain invisible to teachers and students upon signing into Clever.
You can locate the BrainPOP Suite app in your Clever marketplace for applications. From the home screen of your Clever admin account, click App Store on the left hand side.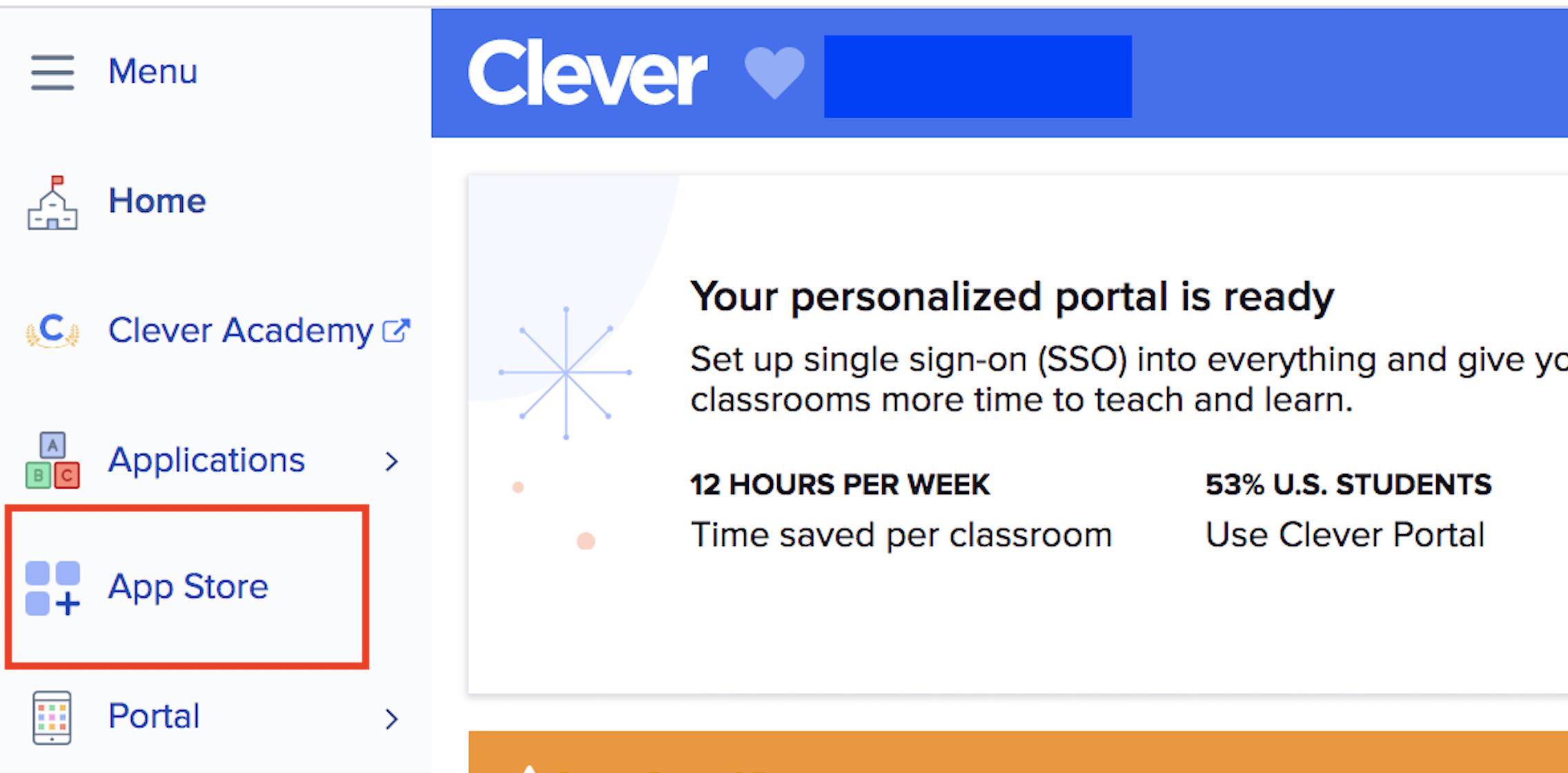 Search BrainPOP Suite in the search bar and select it. It should be the top result.

From here, you can request the BrainPOP Suite app by clicking Add to your Clever account.

After the request is made, you should expect to hear back from us within 1-3 business days to approve the app request. We'll also confirm next steps and data clearing preferences before we provision your accounts.

Matching Existing Accounts
If you already have teacher and student users with individual accounts on your plan, it's important to know how setting up the Clever integration will handle those accounts.

Because we collect very limited student data, we cannot match any existing rosters or student accounts created before the Clever integration with the new integration. For this reason, we strongly recommend clearing student data before proceeding with provisioning accounts, to avoid duplicate accounts.

This will mean that students will lose any current work, so if you already have teachers and students actively using BrainPOP, we recommend waiting until winter or summer break, or another convenient time that will not cause disruption.

If teacher accounts have been created, the existing accounts will be matched to provisioned Clever teacher accounts by the teacher's email address. However, the teacher will lose access to their previous rosters and assignments, particularly if the teacher's school association changes when their Clever account is provisioned.

Once the data is removed, it can no longer be retrieved. We require the approval from an admin at time of setup before we move forward with clearing any data, and we will not clear data before that approval is received.
Provisioning Accounts
Once the BrainPOP Suite app is approved, you can share your district's rostering data.

We recommend sharing all data to BrainPOP Suite, and sharing by school for each SSO app. The BrainPOP Suite app doesn't display for teachers and students, so there's no risk of oversharing on this step.

If you would prefer to limit your sharing, you can share by records by school, and choose the schools that have School BrainPOP plans.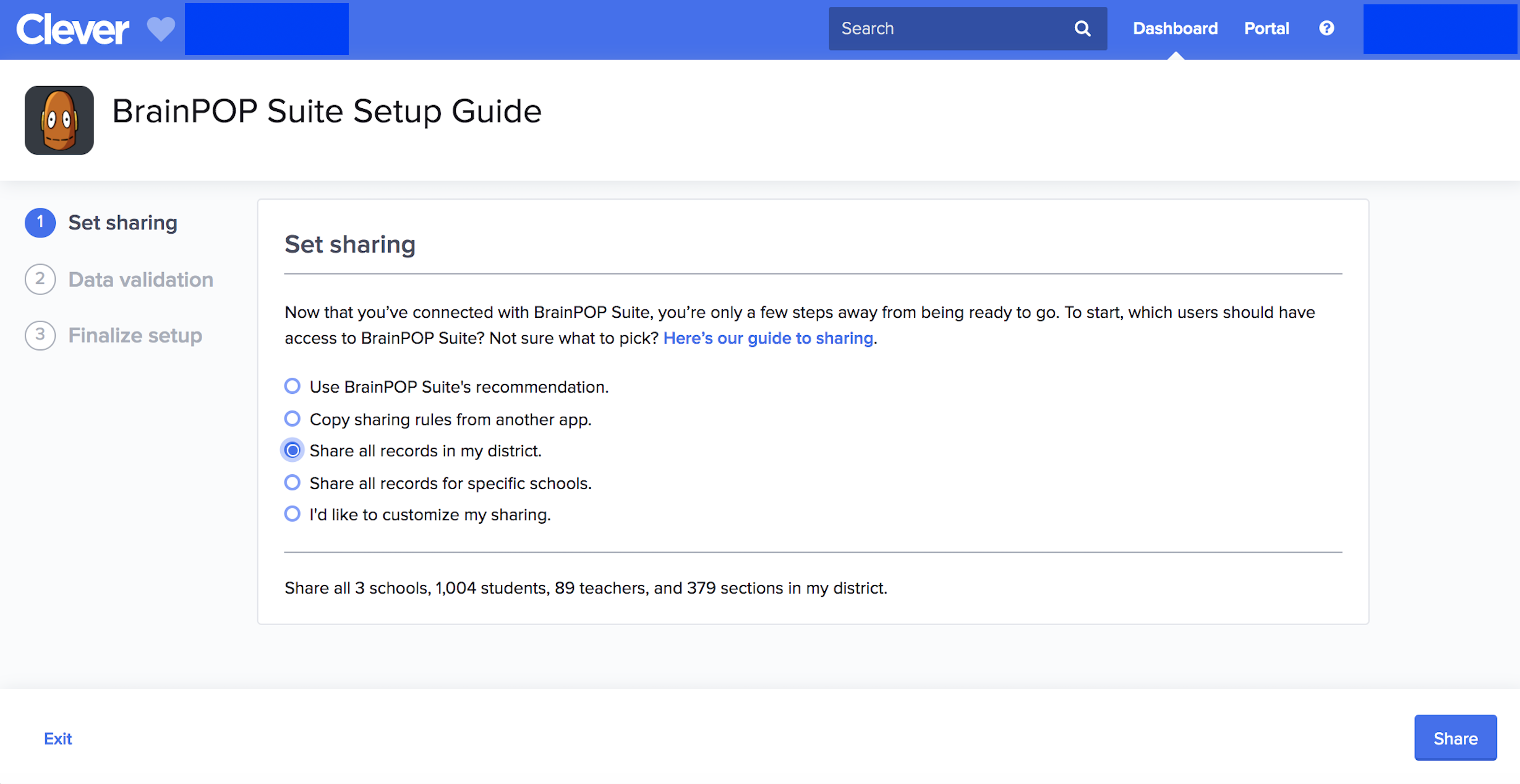 Once you've shared data, we'll provision the teacher, student, and classes for the schools that have plans within your district, and we'll invite you to the Instant Login Apps that apply to the products in their plans.

Instant Login Apps
Once we've sent out the invites to our apps, you should see them with your other applications. Click View Invite.



Click Accept to accept the invite.

Each app invite will come with recommended sharing based on the product access for your schools. Select Use BrainPOP's recommendation and click Share to apply it.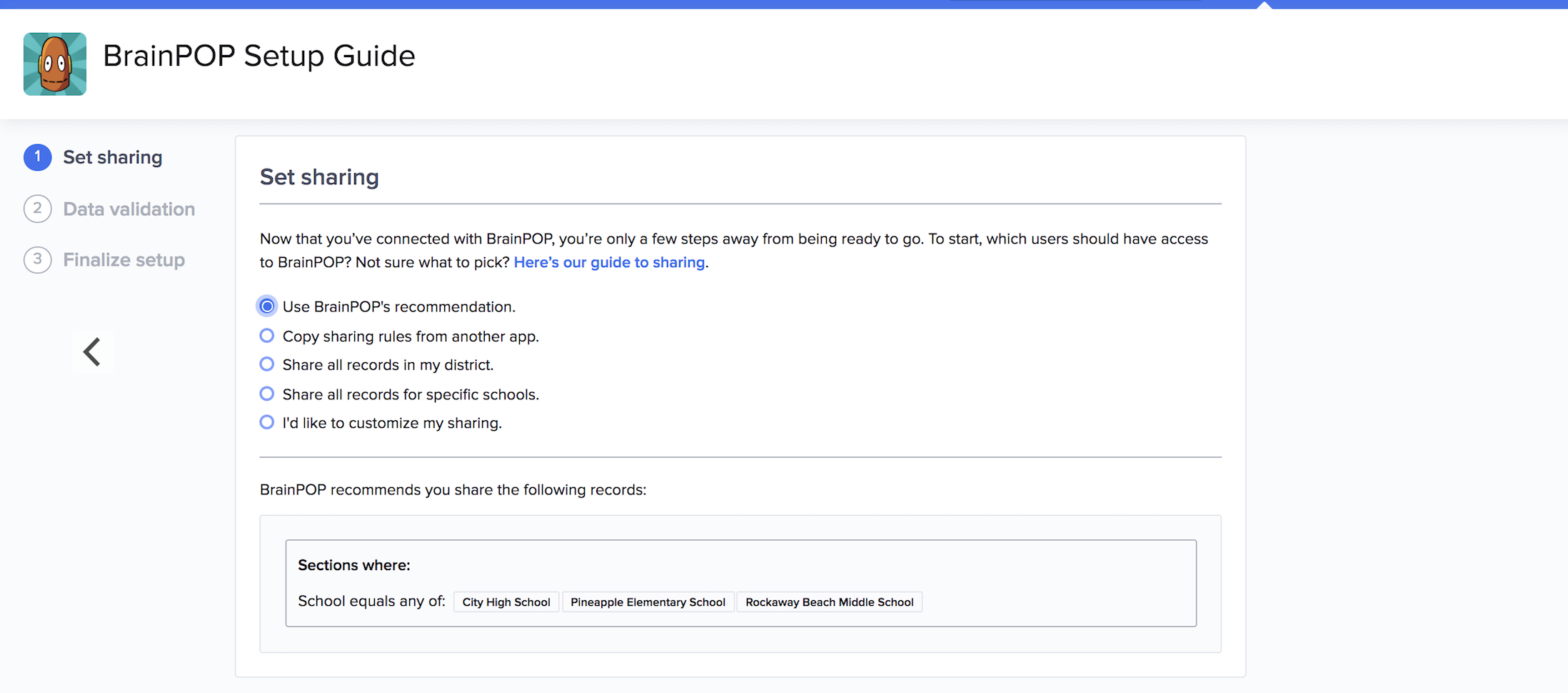 Repeat the process for the other instant login apps.

Teachers and students should now see the instant login apps in their Clever dashboard along with other applications.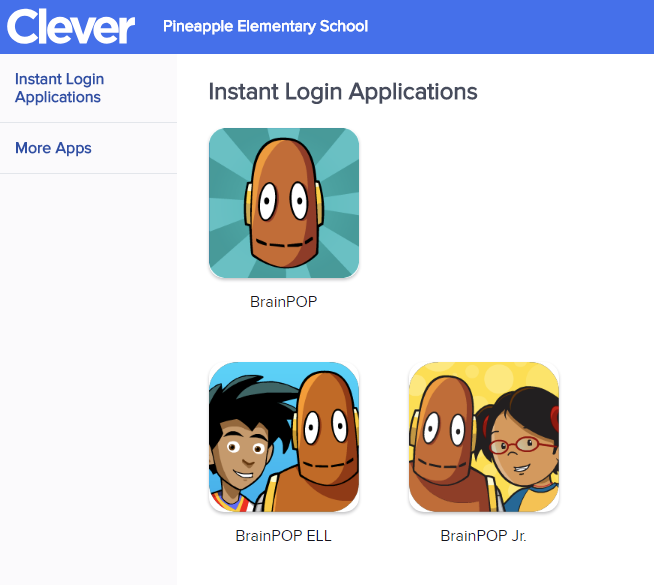 NOTE: Launch dates for the BrainPOP apps can be set in Clever during setup or can be pushed to a date that works best for your school or district. 
SSO Apps
| | | | | | |
| --- | --- | --- | --- | --- | --- |
| | | | | | |
| | | | | | |
The above apps provide single sign-on (SSO) to users. Each app requires an invitation from BrainPOP to be launched. Each SSO app should only be shared with those schools who have an active subscription to the corresponding product.
Next Steps
Learn more about how your teachers and students will be using BrainPOP with Clever. 


Frequently Asked Questions
Can staff log in through Clever?
Yes! School-level staff shared with us in the BrainPOP Suite and SSO apps will be able to access BrainPOP through Clever and have the same experience as teachers. 
However, staff attached to the district only, such as district administrators, will need to reach out to us to have an account created for access.


Can I set up co-teachers for classes in Clever?
Yes, the integration will allow co-teachers from subscribing schools to share class periods that are shared in your SIS.


Is there a way to associate teachers with multiple schools?
Teachers can be associated with multiple schools in Clever, as long as the teacher is shared in BrainPOP Suite and SSO apps for their subscribing schools.


How do I set up a new school with Clever?

If a district has a new school that needs to be added to their existing Clever integration, please reach out to our Support Team for assistance. We will need to add the school's Clever information on our site first, before uploading the data. Even if the data is shared on the Clever site, the information will not automatically upload to the BrainPOP site.