Here are some of the most common error messages or issues that you may encounter when attempting to log in to the site.
IN THIS ARTICLE
The Username and Password You Entered Did Not Match
This Product is Not Part of Your Plan
Your Plan is Expired
"Maximum Number of Devices Permitted" Error
"You've Got Access!"
Website Loads Indefinitely or Videos Will Not Play
Is your school/district integrated with SSO for Clever, Google, Classlink, Canvas, Schoology, etc.?
Please visit one of the troubleshooting pages below that best matches the integration set up by your school/district:
"The username and password you entered did not match"
This error appears if the password associated with the username is incorrect or if the username is not valid in our system.

Ensure that you've entered your username and password correctly and that you have a website plan rather than an app subscription.

If you would like a reminder of your username, or to reset your password, click Forgot username or password? immediately below the Log in button. You can find detailed instructions on how to reset your password in this article: Reset your Password.

"Beep! It looks like you don't have access to BrainPOP."
Your plan may include one or multiple different site products. If you attempt to log into a product that your plan does not currently include, you will see this message. If you would like to add on an additional subscription, please Contact Us for more information.


"Your Plan is Expired"
You will see this error if you try to log in to an account that has expired. To find out how to renew your plan, you can refer to this article.

"Maximum Number of Devices Permitted" Error
Some plans limit the number of devices you can log in with at one time. Teacher plans, individual educator accounts, and individual student accounts allow one device at a time.

Family plans allow for up to two student profiles on one account to be logged in at one time. Homeschool plans allow for four devices to be logged in at one time.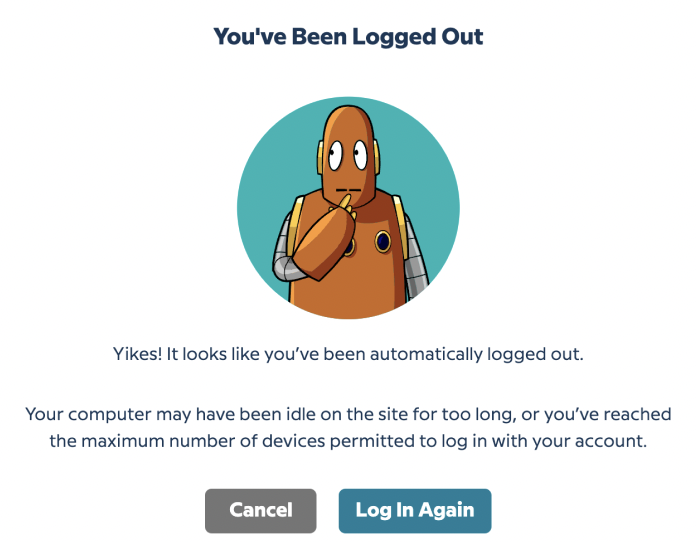 Usually, an error message about login limits results from one of the following two situations:
Someone using your account didn't log out before closing the browser window on a device. If this is the case, you can ignore the error message and click Continue to Log In despite the warning. The best way to prevent this from happening is to remember to log out when you are finished with your BrainPOP session.


More users are trying to log in simultaneously than is permitted with your plan type.
"You've Got Access!"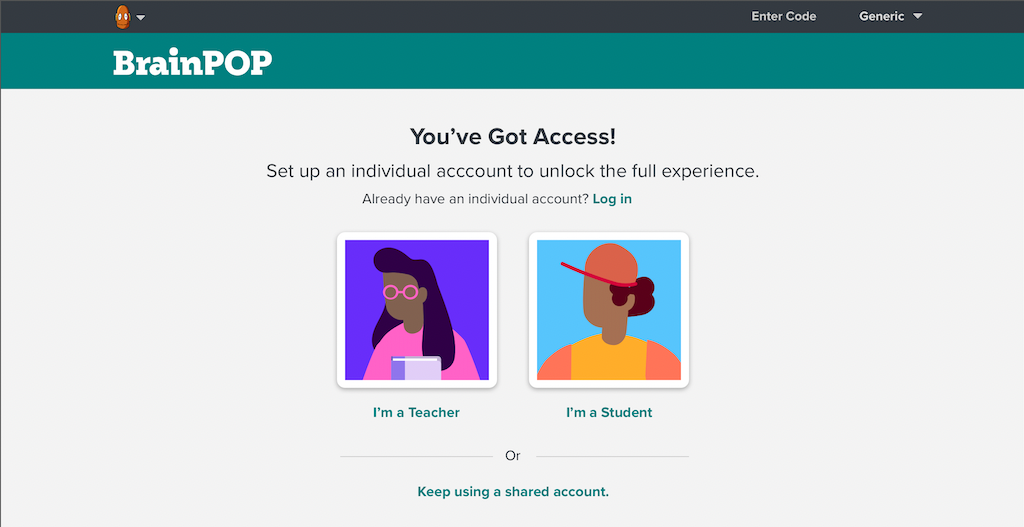 If you are shown this screen, that's great news - your school has enabled individual account access!
School accounts have a shared account you can log in with, but the shared account does not have the features individual accounts have, including assignments, grades, Make-a-Movie and Creative Coding activities.
For this reason, we strongly suggest you log in via individual accounts, rather than the school-wide shared account. When you log in to the shared account, you will be met with this screen and directed to log in to your individual account or create a new one.
For information on setting up the individual accounts you have access to, see:
Website Loads Indefinitely or Videos Will Not Play
First, check the status of our site by visiting the System Status page.
If you are logged in with your username and password, but the website will not load or certain videos won't play, you may need to clear your browser's cache and cookies. Here's how:
Google Chrome:
Open Chrome.
On the browser toolbar, click the Chrome menu.
Click More tools > Clear browsing data.
In the box that appears, click the checkboxes for Cookies and Other Site Data and Cached Images and Files.
Use the menu at the top to select the amount of data that you want to delete. Choose All Time (or Beginning of Time for older versions) to delete everything.
Click Clear Data (or Clear Browsing Data for older versions).
Close out of the browser and then reopen.
Mozilla Firefox:
Open Mozilla Firefox.
Click the menu . Choose History, and then Clear Recent History.
Click the dropdown menu and select Everything.
Click the arrow next to Details to select what information you want to clear. Make sure to include both Cookies and Cache.
Click Clear Now.
Close and reopen the browser.
Internet Explorer 11:
Open Internet Explorer.
In the upper right corner, click the small gear icon and choose Internet options.
In the General tab, under Browsing History, click Delete.
Uncheck Preserve Favorites website data.
Check Temporary Internet Files, Cookies and website data, and History.
Click Delete.
When finished, click OK to return to your Internet Explorer window.
Close the Internet Explorer window and reopen.
Apple Safari:
Click Safari in the upper left side of your screen. In the menu that appears, click Preferences.
In the window that appears, click the Privacy tab, then Manage Website Data. Click the button Remove All.
Click Remove Now in the popup window that appears.
---
Frequently Asked Questions
I'm receiving an error message that my account is not activated
First, please check your email inbox or spam folder for an activation email from BrainPOP. If you are not able to find an activation email, you can create a ticket at help.brainpop.com, and one of our agents will assist with activating your account.
I'm receiving an error message that my account is unlinked
There are several factors as to why you would run into this error. Please contact our support team at help.brainpop.com to further investigate the problem.
I'm having trouble loading BrainPOP activities
Visit our Help Center page on Issues Accessing Our Site for more troubleshooting information.