BrainPOP's LTI tool enables users to add BrainPOP topics to course materials in Schoology. The LTI tool offers single sign-on and individual account provisioning for school and district-wide BrainPOP subscribers.

IN THIS ARTICLE
What You'll Need
Setup for Admins
Using the Tool in Schoology
Next Steps
Frequently Asked Questions
What You'll Need
A paid School or District plan including at least one of the following products: BrainPOP, BrainPOP Jr., BrainPOP ELL

Administrator access to Schoology
Your key and secret (If you do not know your key and secret, please Contact Us.)
Setup for Admins
The LTI tools for BrainPOP, BrainPOP Jr., BrainPOP ELL, and BrainPOP Science in Schoology provide Single Sign-on (SSO) and on-demand account provisioning.




The BrainPOP 3-8+ tool also provides SSO from the course sidebar, as well as a topic selector for teachers, allowing teachers to choose topics for students, and for students to log in directly to topics assigned by teachers.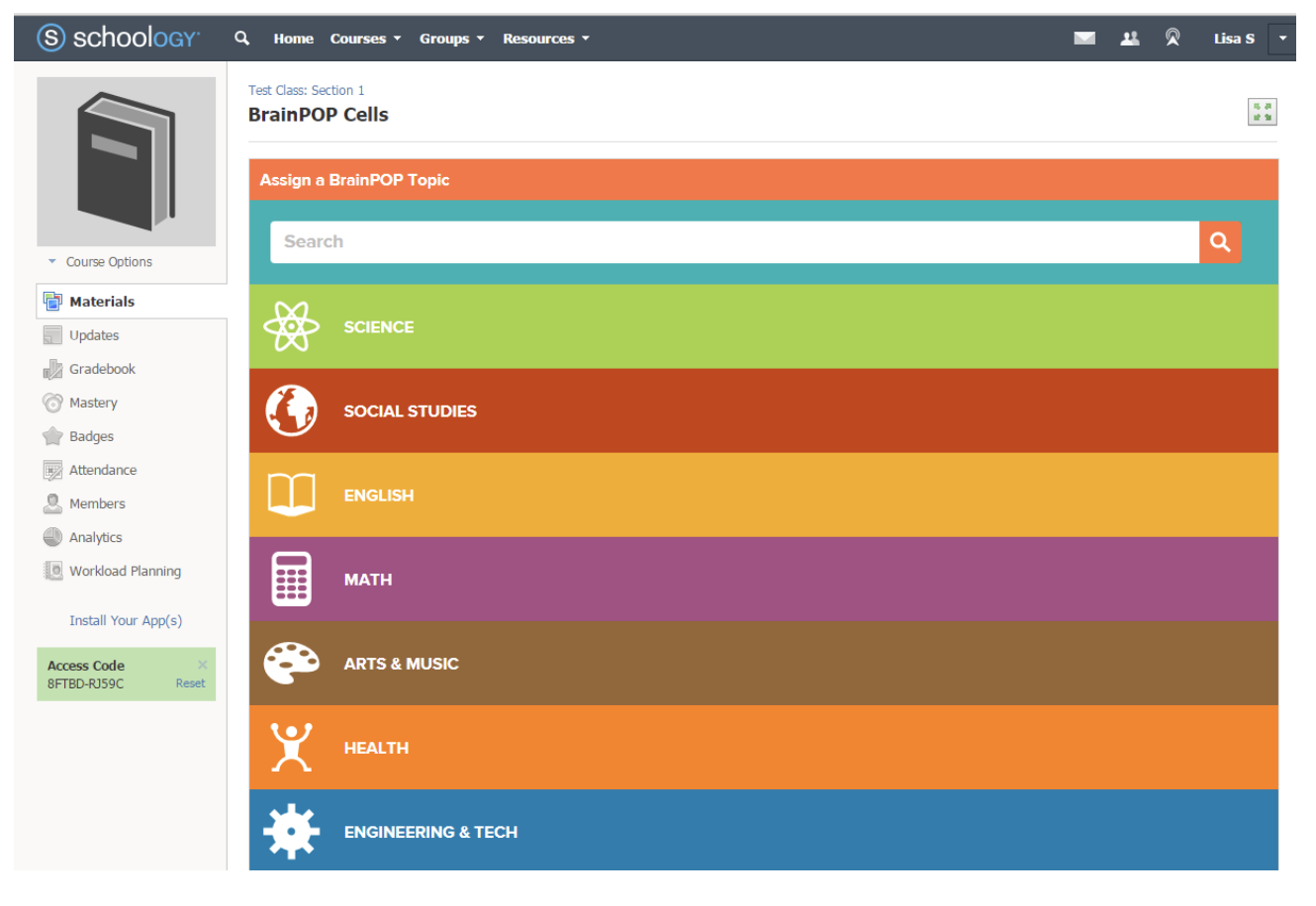 NOTE: BrainPOP Jr., BrainPOP ELL and BrainPOP Science tools do not offer SSO from the sidebar, or the topic selector. Instead, they provide SSO when used as an external tool.
When using these tools, be sure to use the following launch URLs:

https://jr.brainpop.com/lti/launch.php
https://ell.brainpop.com/lti/launch.php
https://science.brainpop.com/lti/launch.php
Installing BrainPOP 3-8+
Go to the Schoology App

Center and install the BrainPOP 3-8+ app.


After clicking Install LTI App choose Add to Organization, then choose the relevant organizations.




Finally, configure the app by navigating to

your Organization Apps

via the toggle at the top of the App Center.

Contact us for your key and secret. Once the key and secret has been added, it will then be installed and configured for all instructors.
Installing BrainPOP Jr., ELL, and/or Science
Click System Settings on the left-hand side of your system admin home page.
Click Integration (directly below System Settings) in the navigation menu.
Select External Tools tab at the top of the page.
Click Add External Tool Provider.




You should set the fields as follows:

- Configuration Type: Manual
- Tool Name: BrainPOP Jr./ELL/Science (as appropriate)
- Consumer Key & Secret: Contact Us
- Launch URLs:
BrainPOP Jr.: https://jr.brainpop.com/lti/launch.php
BrainPOP ELL: https://ell.brainpop.com/lti/launch.php
BrainPOP Science: https://science.brainpop.com/lti/launch.php
- Domain: www.brainpop.com


- Privacy: Send name and email/username
Using the External Tool in Schoology
Teachers can use BrainPOP, Jr., ELL and Science as external tools in Schoology. BrainPOP 3-8+ content can be embedded directly in assignments (if the admin has left the topic selector enabled), and the other sites (Jr., ELL, and Science) can be utilized as follows.
In the selected course, go to

Add Materials

.

To add more, click "

Add File/Link/External Tool

" and then select "

External Tool" from the next prompt.



BrainPOP will be listed under Tool Providers. Add a title, then click Submit. Click the link that was just created.



If you are accessing the BrainPOP tool, the topic selector for BrainPOP will appear. (Alternatively, if you are using BrainPOP Jr., ELL, or Science, or if your administrator has configured the tool to launch to the homepage, you will see the corresponding homepage.)





After selecting a topic (either by navigating through the subjects or searching), the LTI link is ready to use! Any student who uses the link in the course will be automatically logged in on the selected topic page.


Next Steps
Now that the integration has been set up, teachers can create their accounts.
Frequently Asked Questions
There are teachers and students in my school/district already using individual accounts. When I set up the integration, can they continue using their existing individual accounts, or do they need to create new ones via the LMS?
When teachers who already have individual accounts use the LTI app for the first time, they will be prompted to match their existing individual accounts to their LMS identities. They will not need to create new accounts, and they will not lose any of their classes or assignments.

Students cannot be matched, unfortunately, since we do not collect student data. You'll need to create new student accounts via the new Schoology integration.
Can I use the LTI tool to launch directly into a feature within a topic?
Not at this time. Currently the launch is configured for topics, but we're considering enabling feature-level launches for the future.