If you have a Family Plan that includes BrainPOP or BrainPOP Jr., your plan includes a personalized experience for up to two children. Children can track learning goals by earning checks and badges and viewing their achievements in their custom homepage.
IN THIS ARTICLE
Getting Started with your Family Plan
Choosing Grades for Children Outside the US
Earning Checks and Badges
Managing Profiles and Settings
Frequently Asked Questions
Getting Started with your Family Plan
When you first log in after purchase, you'll be prompted to create up to two child profiles for your plan.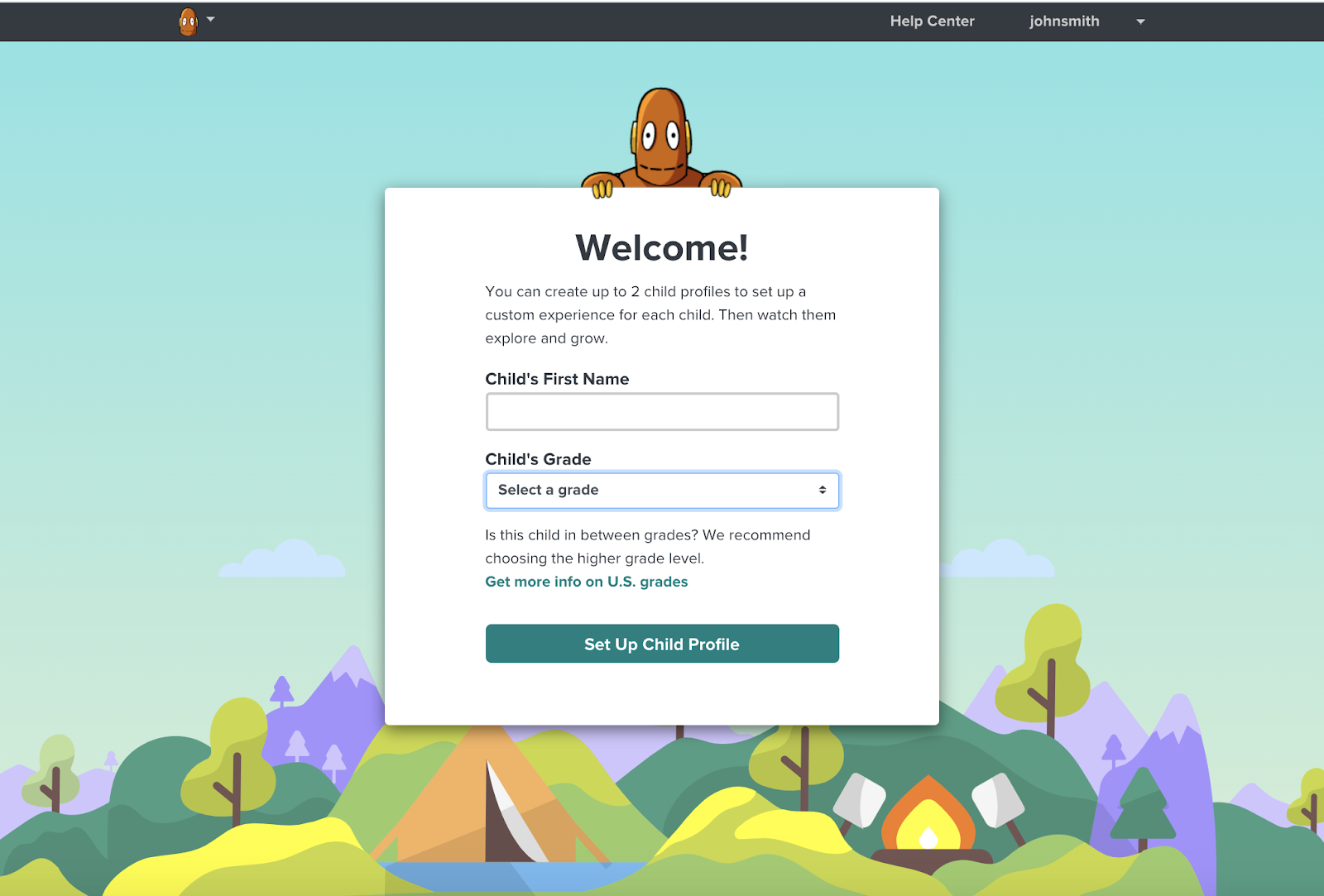 You will be asked to provide a name and select the child's grade level. We collect the grade level in order to surface the most relevant content for your child on their personalized homepage.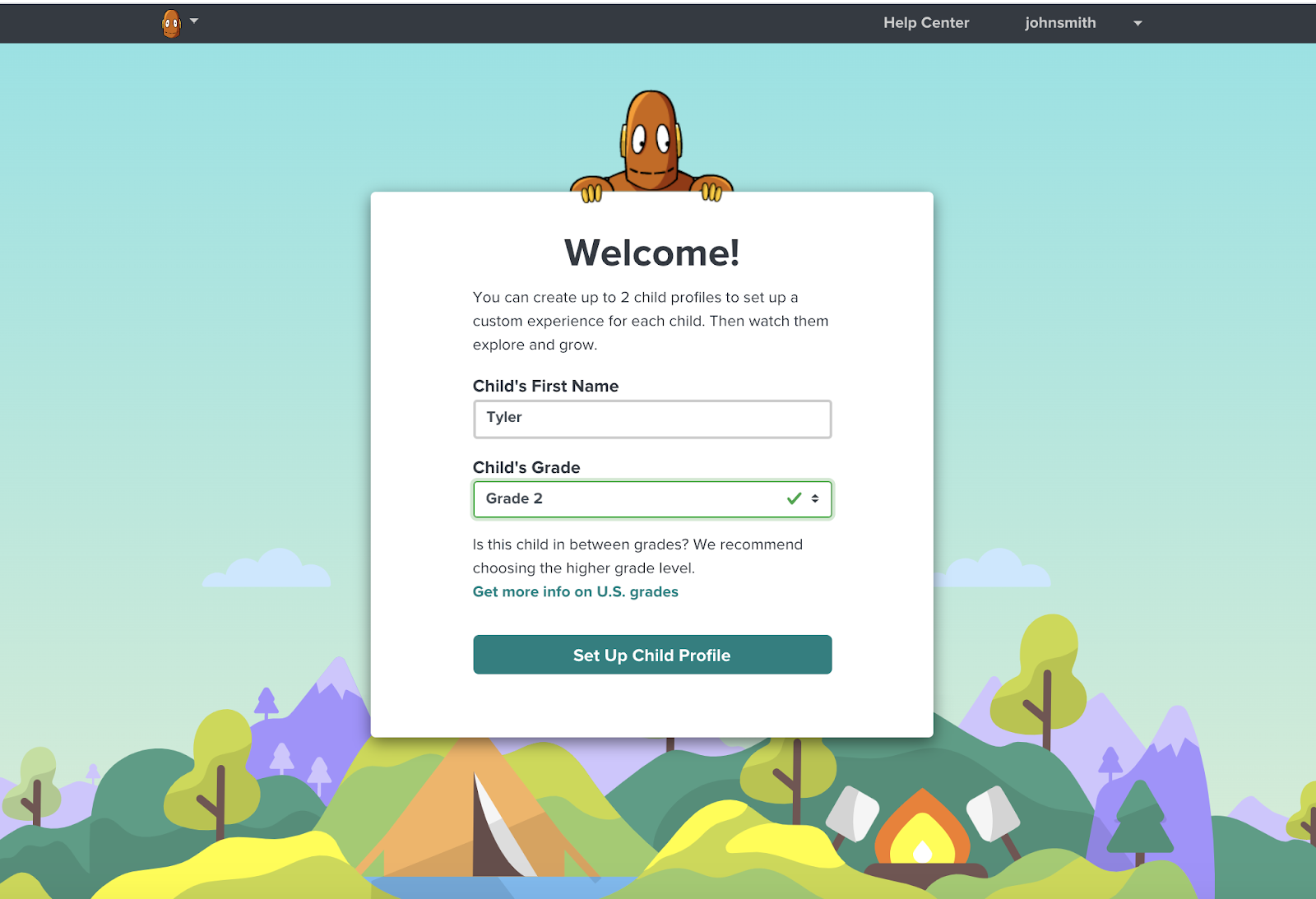 After you create your child profile, you'll find the homepage. From here, you can browse subject areas and find badges matched to the grade level for your child's profile.

Setting the grade level in the child's profile selects a default grade level to display in their homepage, including recommended badges.

Kids can always click 'Switch grades for more badges' to see badges recommended for higher and lower grade levels. They are not limited just to the grade-level content that is recommended by default.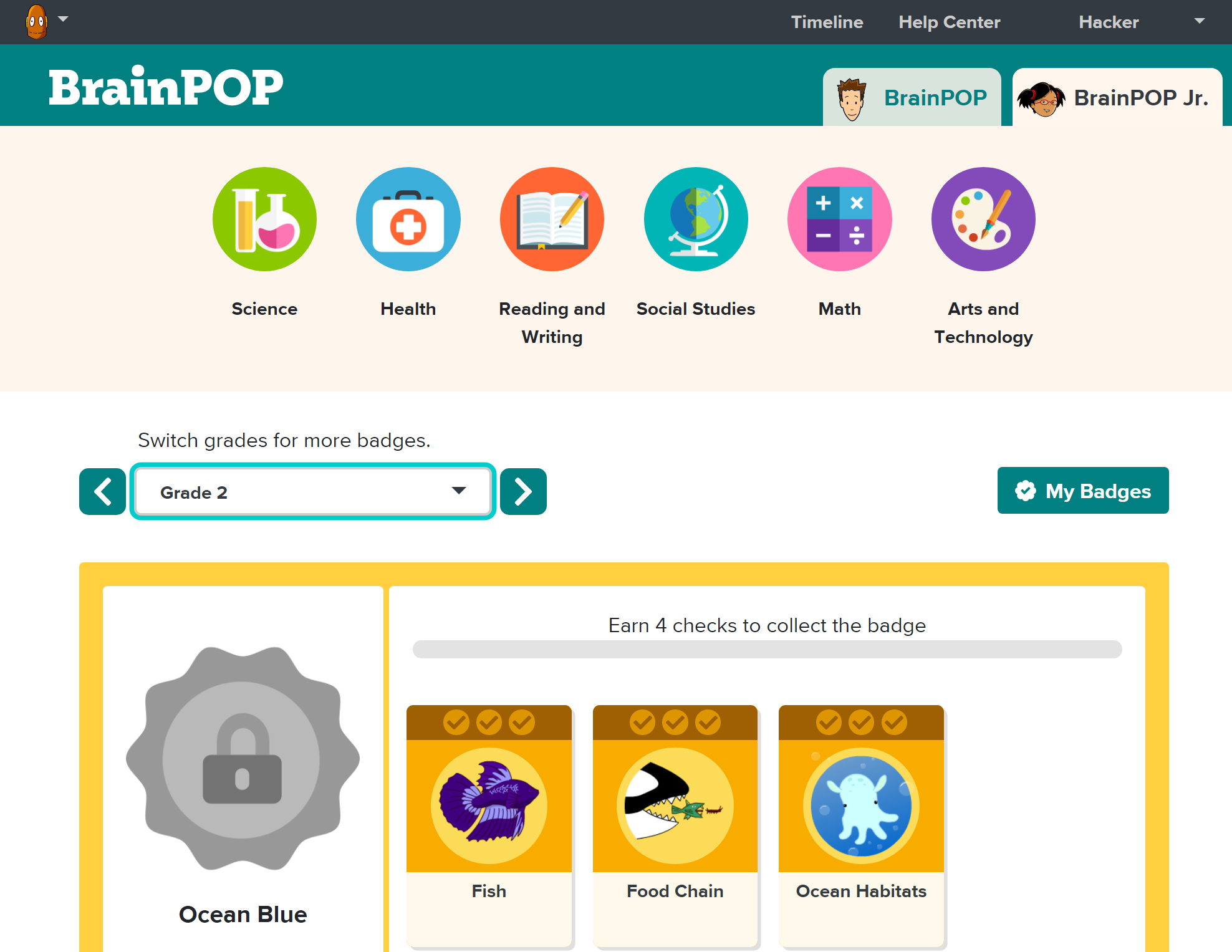 Choosing Grade Levels for Children Outside the US
If you are not in the US, or your child's school doesn't follow a traditional grade system, you can use this table to determine your child's US grade level.


| Age Range | Grade Level |
| --- | --- |
| 5-6 | Kindergarten |
| 6-7 | 1 |
| 7-8 | 2 |
| 8-9 | 3 |
| 9-10 | 4 |
| 10-11 | 5 |
| 11-12 | 6 |
| 12-13 | 7 |
| 13-14 | 8 |
Earning Checks and Badges
Each grade level has a variety of badges children can earn – from American history to outer space.
A badge consists of a set of topics. To collect the badge, children must earn checks across the related topics. Each topic can earn up to 3 checks towards the badge. You'll see completed checks in green.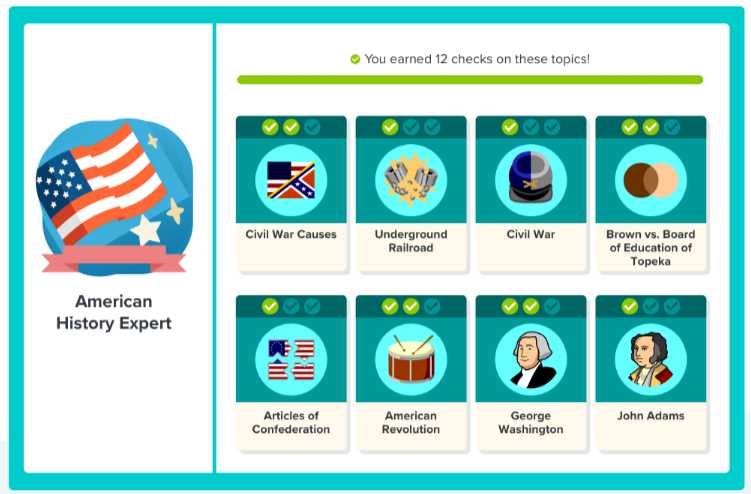 To earn a check, children must complete one of the features on the topic page, like watching a movie or doing a quiz. A green check will appear on all of the features they have already completed.
Finished an activity but didn't earn a check? Checks are awarded at the end of an activity, so make sure not to close the activity too soon.

Here's how to earn checks across each of the features:
| | |
| --- | --- |
| Activity | How to earn the check |
| Movie | Watching the entire movie |
| Quiz | Completing the quiz |
| Challenge | Completing the challenge |
| Meaning of Beep | Completing the game |
| Sortify | Completing the game |
| Timezone X | Completing the game |
| Draw About It | Canvas contains a drawing |
| Belly Up | Spending 30 seconds on the feature |
Managing Profiles and Settings
You can manage your profiles and settings at any time by clicking on the name of the profile at the top right and choosing Settings. If you have more than one child profile, you can access Settings from either profile.




From the Settings page, you can edit your child's name or grade level. If you don't ever edit the grade level after onboarding, don't worry-- this is updated automatically to move up one level over the summer.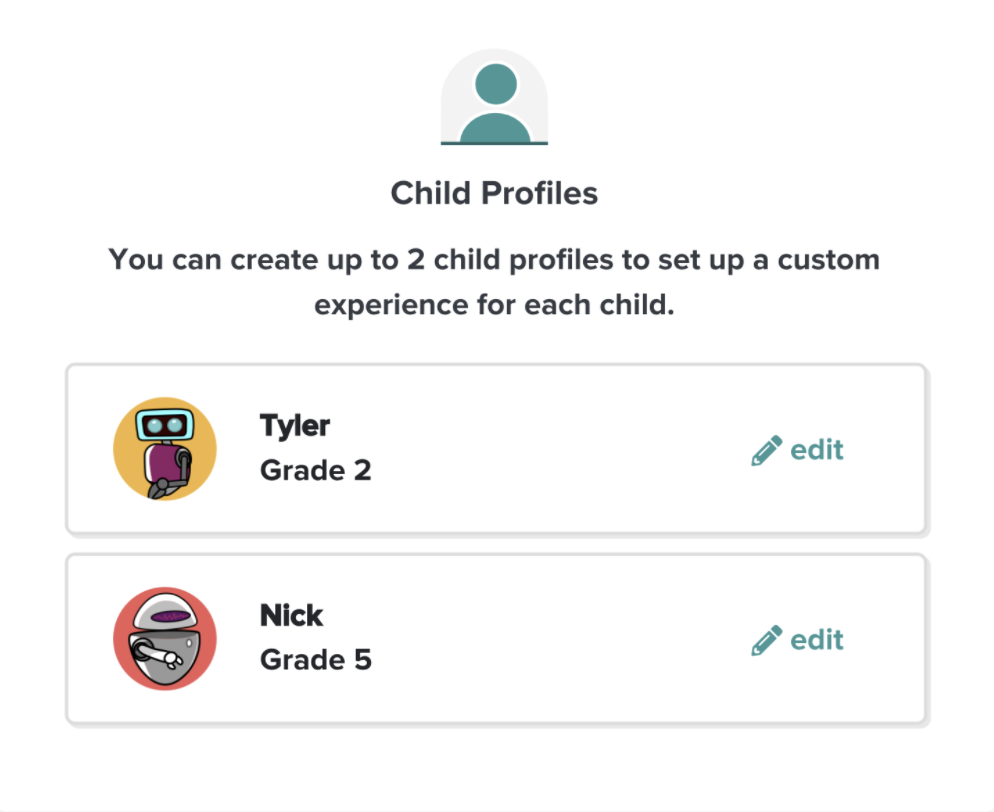 You can view your username and reset your family account password from the Settings page.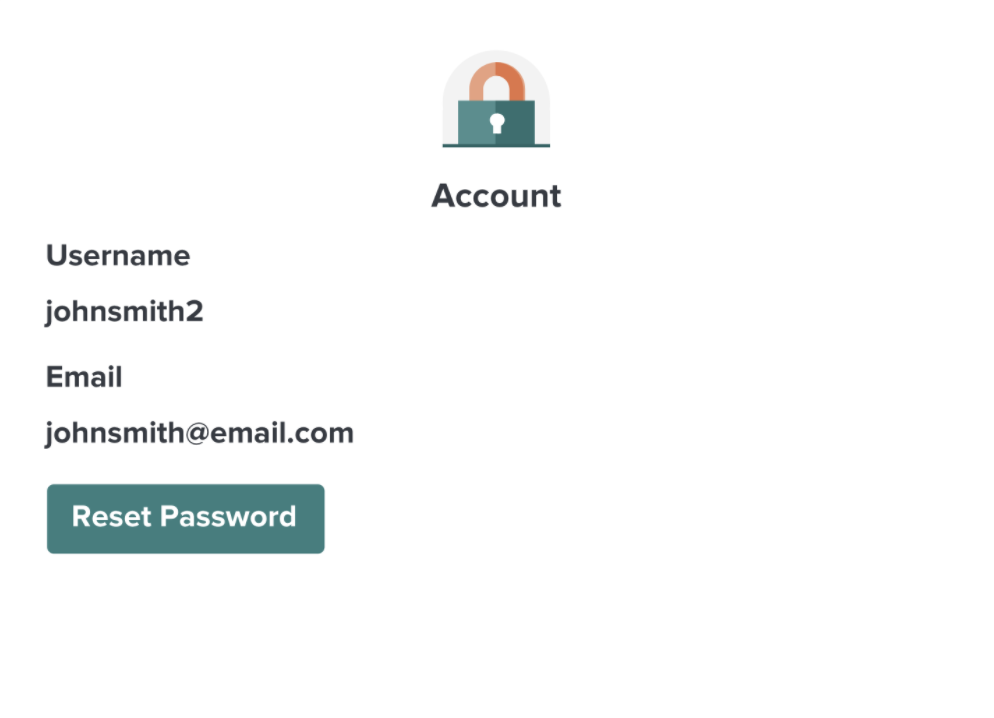 You can also view your subscription and product information here. If you want to change your contact or billing information, click on Manage Subscription in the Settings menu.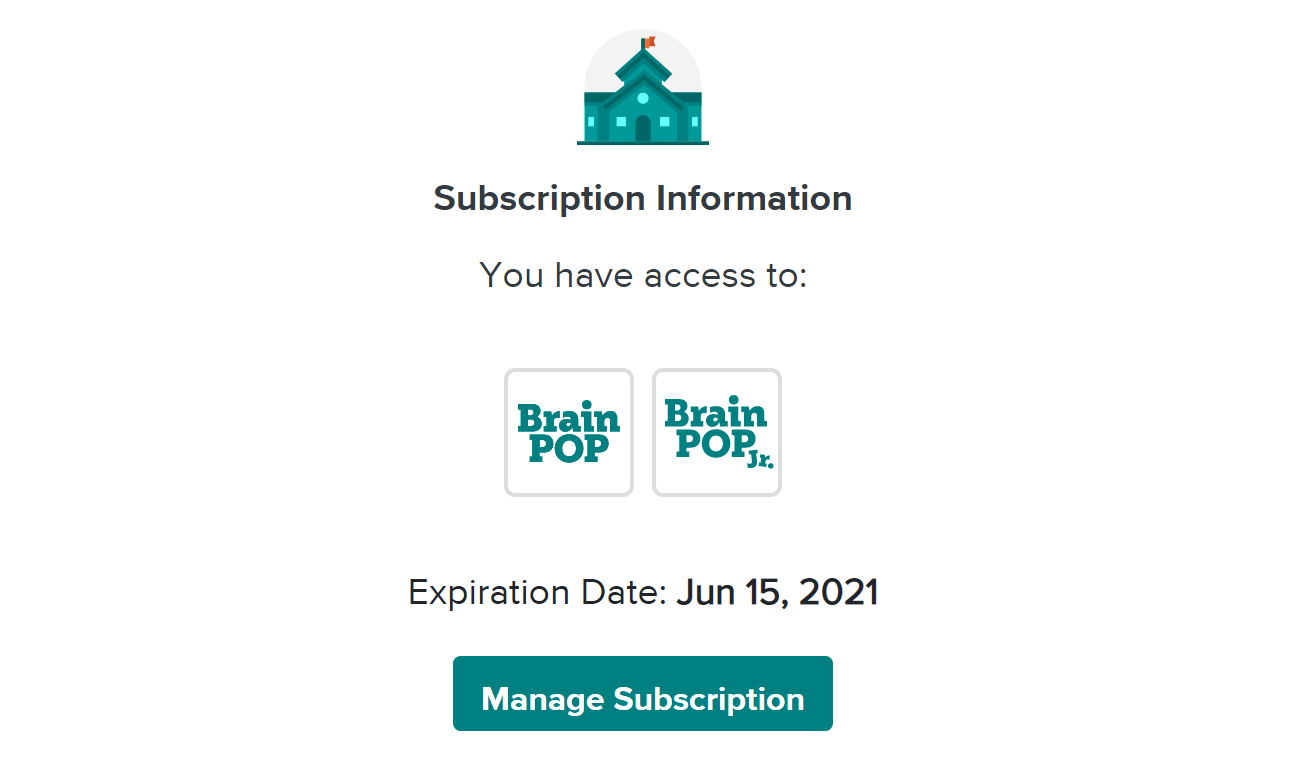 ---
Frequently Asked Questions
Is it possible to set up a Family plan with more than two child profiles?
Not at this time. However, if you have more than two children, you can purchase a second Family plan.
How can I view my child's progress?
Just log in with your Family plan username and password and open your child's profile to see their homepage and achievements. You can also track completed badges in "My Badges" and view a full history of topics they're working on in "Timeline."
I'm looking for a specific topic but I don't see the search bar from my homepage.
From the homepage you can browse topics by grade level and subject area. If you're looking for a specific topic, you can route to any BrainPOP or BrainPOP Jr topic first, and then use the search bar you see at the top right.
My child has earned all the badges for their grade. What's next?
Great! They can use the grade selector on the top left to choose other grades and find new goals to pursue.
I don't see some features like Worksheets in my plan.
The Family Plan doesn't include access to all learning activity features. Find out more in this article.