NOTE: This article is about canceling your plan on our website. To cancel automatic renewal of an in-app subscription on a mobile device, learn how in our Apps Articles!
If you subscribed to a BrainPOP website with a credit card, you can cancel the automatic renewal of your plan at any time by choosing Manage Subscription in the footer.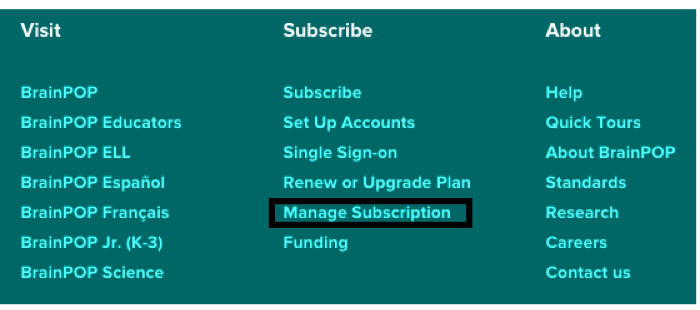 You will be asked to log in to your BrainPOP account if you have not already, and then taken to the portal. From there, you can stop automatic renewal by clicking 'Cancel Plan.'
That's it - you're done! You will be able to view the last date of your plan in the portal.
Not seeing a 'cancel plan' button?
Due to Stripe functionality, some users with plans created before 8/15/21 may need to contact Support for help cancelling their plan. Contact us here and one of our support agents will assist you in making any changes.
Frequently Asked Questions
If I cancel automatic renewal, do I lose access to my plan immediately?
Canceling automatic renewal will prevent your card from being charged on the next renewal date. The last day you will be able to access the plan will appear on the Cancel Plan page.
Do you send reminders about upcoming renewal dates?
For annual renewals, we send email reminders seven days before your card is charged. We do not send reminders about monthly renewals.
Can I get a refund for the remaining time left on my plan?
Unfortunately, no. Canceling automatic renewal will prevent you from being charged further, but it will not refund for the time remaining in your current monthly or annual billing period.
I think I bought the wrong plan. Can you help?
Absolutely. Contact Us and we'll be happy to help.