IN THIS ARTICLE:
Receiving and Viewing an Assignment
Collecting Evidence
Navigating an Investigation
Submitting a Completed Investigation
Receiving and Viewing an Assignment
When a student logs into BrainPOP Science, they will know right away if they have an assignment waiting for them. On the Student Homepage, there will be a notification on the Utility Bar. They can click on Notifications to be taken to the latest assignment.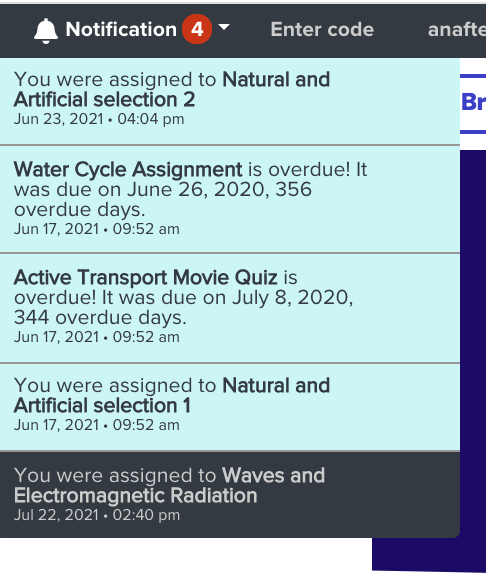 The student can also click on "Dashboard" to be taken to the student dashboard. Here, the student will see a map of all parts of the investigation. They can select any part to get started!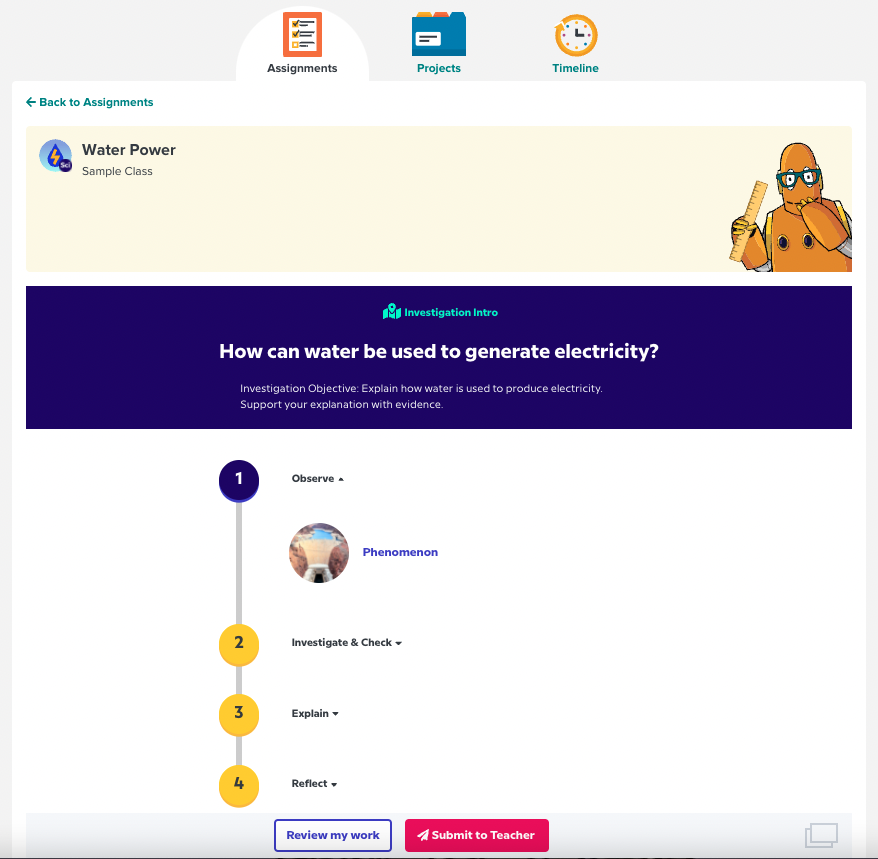 Collecting Evidence
As the student completes each activity, they will need to collect pieces of evidence that will help them answer the Driving Question (in this example, "How can water be used to generate electricity?"). To do this, they will click the red "+ Add Evidence" button to open the Evidence collection modal to add the evidence. Currently only text evidence can be entered.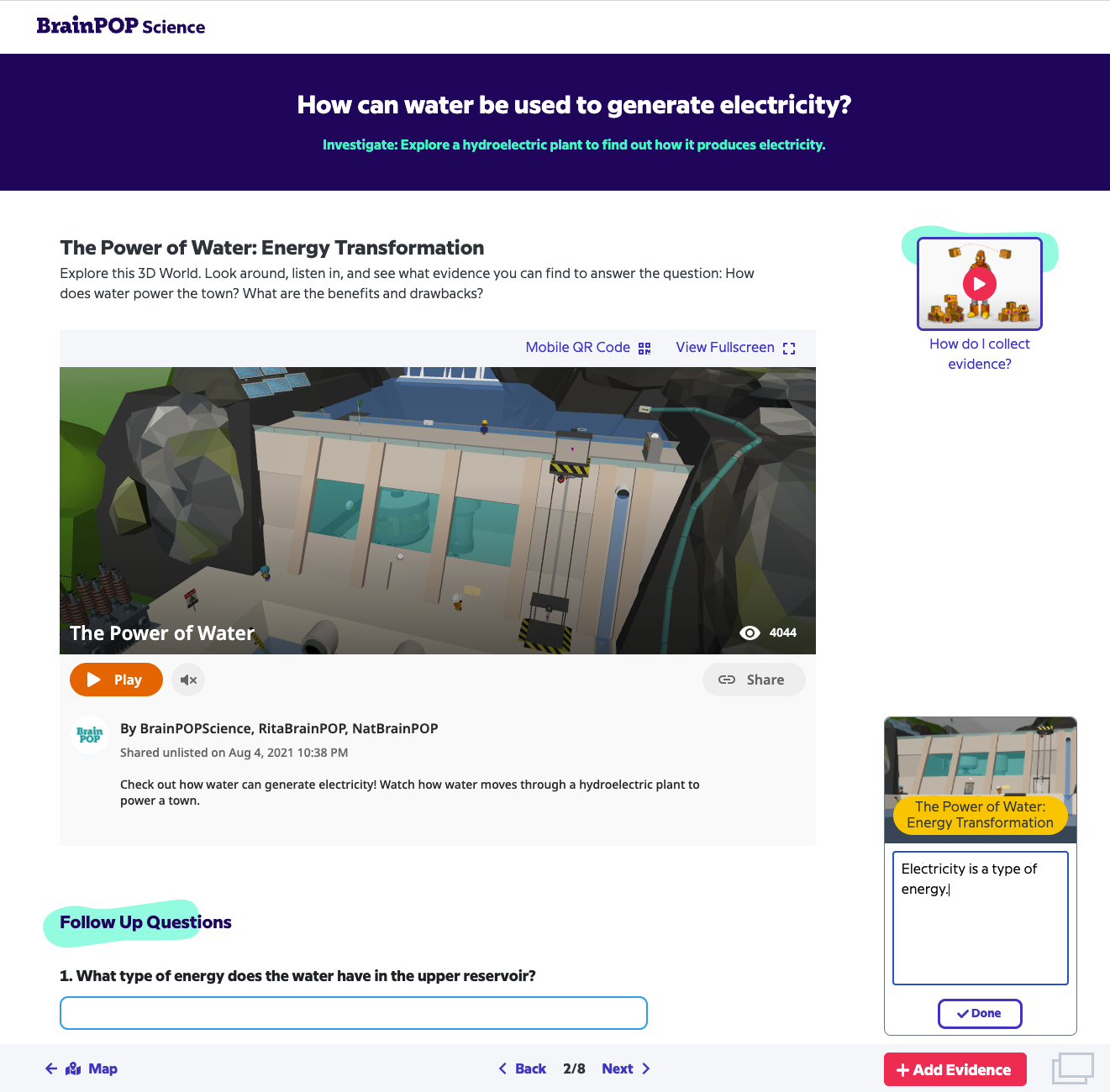 Students can review all of their evidence at any time, by clicking the evidence card stack next to the "+Add Evidence" button. where the student can favorite or delete their evidence.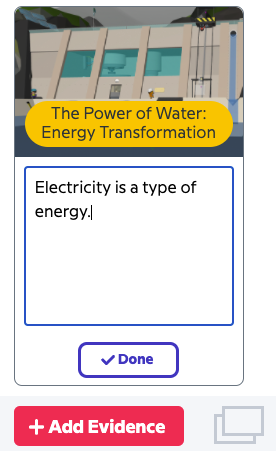 If at any time a student is confused about collecting evidence, they can click on the "How do I collect evidence?" movie in the top right corner.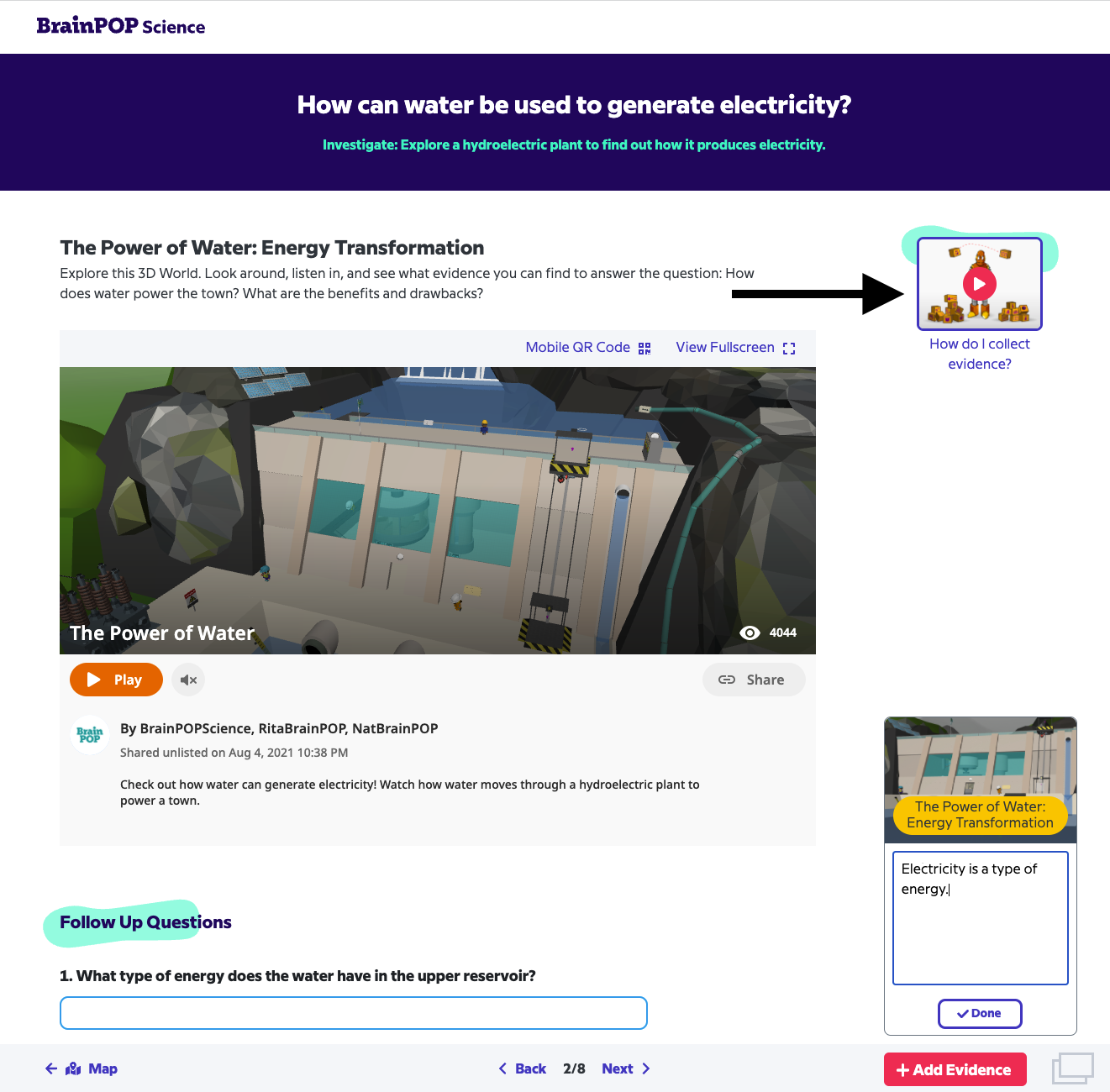 Navigating an Investigation
A student can navigate through the Investigation using the "Go Back" and "Next" buttons, the forward and back buttons on their browser, or by clicking the Map icon at the top of the page, which will bring them to the Progress Map. The map will show them what they have and have not completed.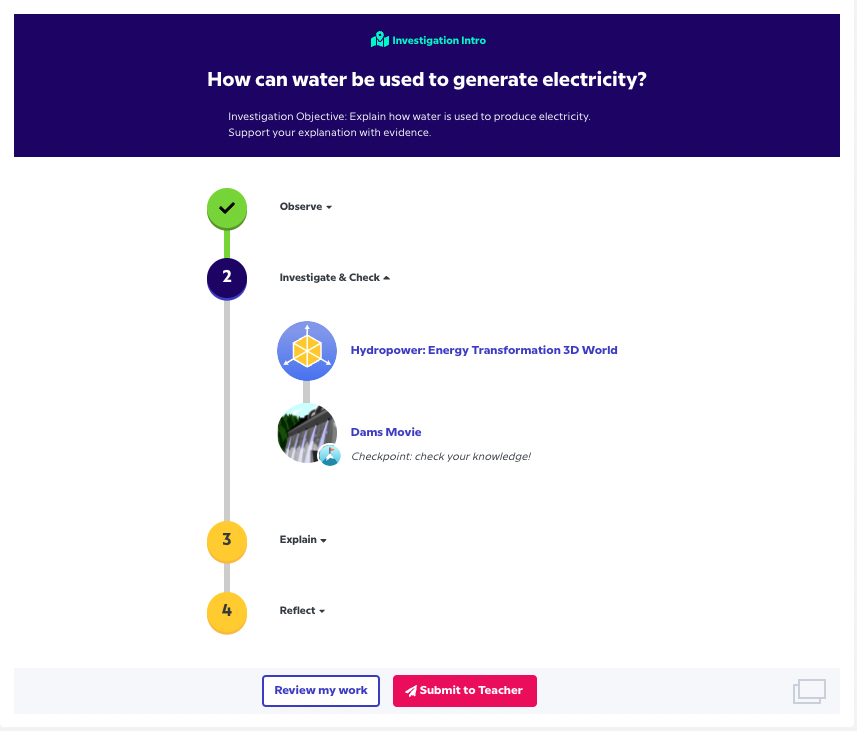 After the student has completed all activities in Investigate & Check, they will use their Evidence to submit a Claim. A student will not be able to submit their Investigation until they complete the Investigate & Check section and the Explain section (also known as Claims-Evidence-Reasoning or CER), wherein they use their evidence to answer the Driving Question of the Investigation.
They will first be asked to review their evidence and add more if needed.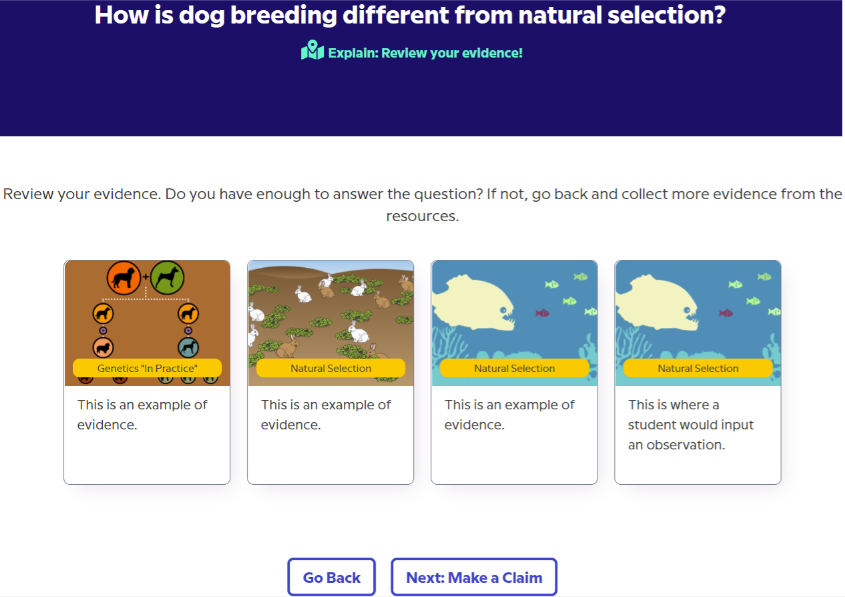 They will then draw on this evidence to Make a Claim.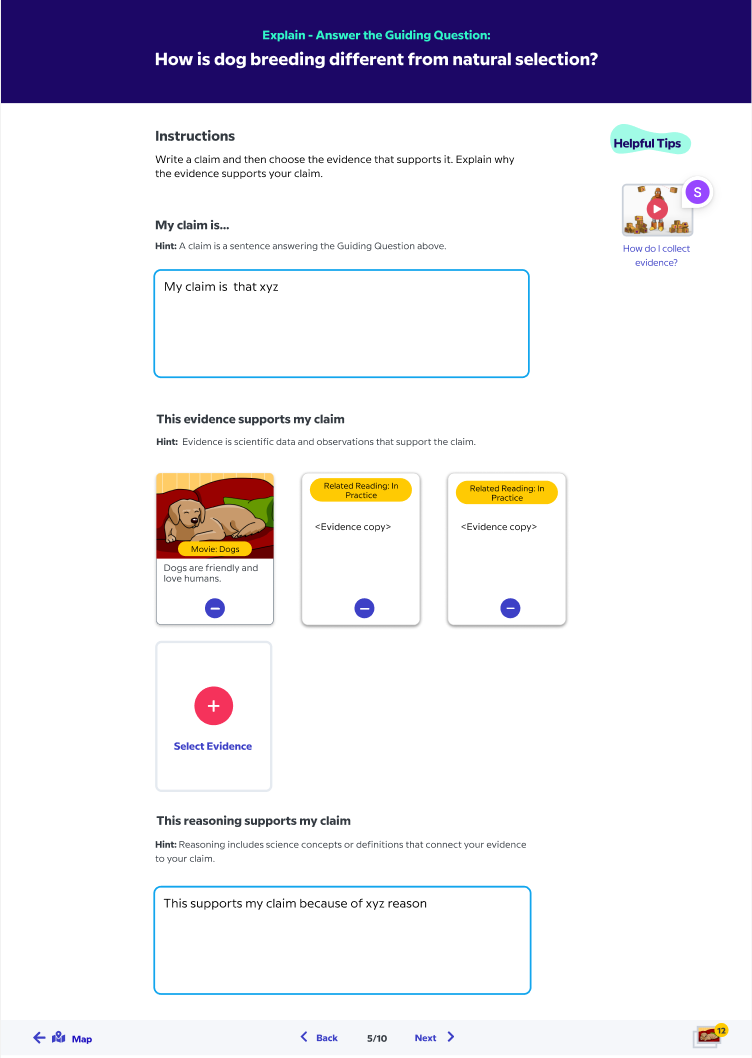 Before submission, they will review their claim, and then reflect on their experience in the Investigation.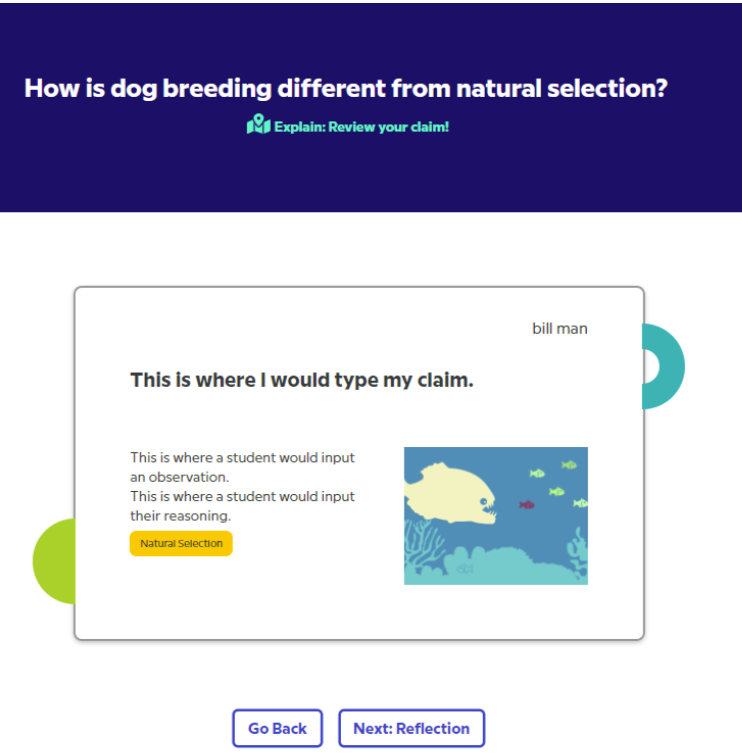 Submitting a Completed Investigation
The student will then submit the Investigation to the teacher, where it will appear in the Teacher Dashboard. The student does not have to have completed every part to submit it as done; they just have to have completed the Investigate & Check and Explain portions. The student will get a confirmation message in their own dashboard.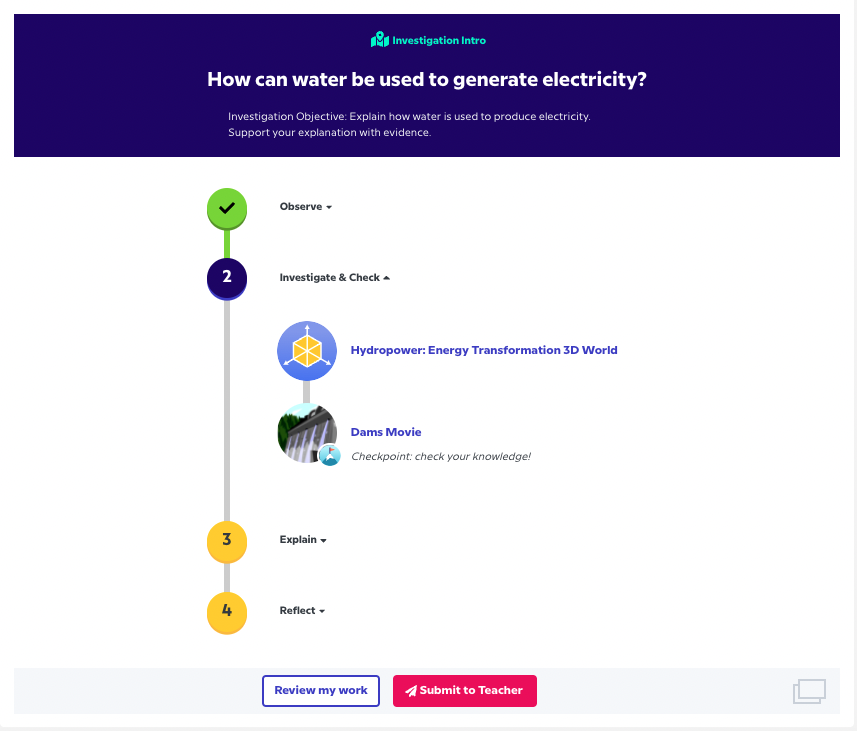 The assignment will only be marked as done if the student has selected 'Submit to Teacher'.
If a student saves and exits BrainPOP Science before submitting their investigation, the latest activity will be highlighted on the homepage and the student may resume work that way.