IN THIS ARTICLE
Modular Units
Science Investigations
FAQs
Modular Units
BrainPOP Science has 33 Units for grades 6-8 that provide flexibility for schools and districts to customize their experience in a way that aligns with their unique curriculum and grade-level needs.
Each Unit contains Investigations, standalone interactive tools (simulations, Data Manipulatives or 3D Worlds), as well as quizzes, which provide teachers and administrators with actionable insights of student progress.
NOTE: You cannot assign entire Units in BrainPOP Science: Investigations, standalone resources, and assessments have to be assigned individually.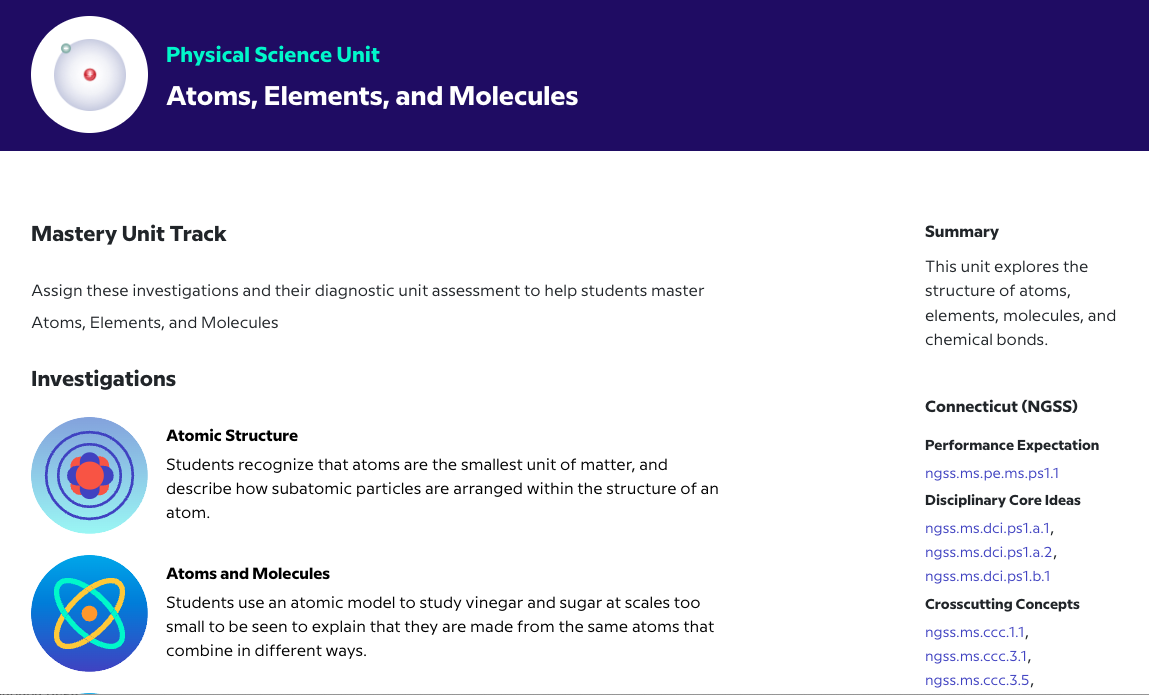 Science Investigations
A BrainPOP Science Investigation is a robust, interactive lesson. A single Investigation covers up to one week of instruction and includes key activities: examining phenomena, collecting evidence, articulating claims and reasoning, and checking for understanding along the way. BrainPOP Science investigations are part of BrainPOP Science Units, which include a Unit-level assessment.
BrainPOP Science investigations include a collection of Data Manipulatives, Simulations, 3D Worlds, exclusive science movies, and Check for Understanding (CFU) assessments.
Exclusive Science Movies leverage the power of BrainPOP's animations to explain hard-to-teach science concepts with exclusive, embedded videos.

Simulations allow students to observe science principles in action and manipulate models to test hypotheses and collect evidence while also strengthening their conceptual understanding.

Data Manipulatives allow students to interact with scientific data from real-world scenarios while improving data literacy skills.

3D Worlds enable students to explore virtual environments that reflect real-world phenomena and encourage scientific argumentation and discussion.
When an Investigation is assigned, all of the individual core pieces, including any optional pieces the teacher has chosen to add, will be assigned at once. Throughout the Investigation, students collect evidence, which they can then use in their final explanation construction.
Teachers can choose to add additional resources to support differentiation in the classroom. These differentiated resources vary by Investigation topic, and can include vocabulary, games, movies, Simulations, readings, or other activities.
NOTE: If you want to assign versions of the Investigation with different additional resources, you will need to create an assignment for each version.
FAQs
How can I find specific resources?
To find specific resources, you can look on the Teacher Homepage or go to Browse Resources which will direct you to all Units and Standalone Resources (SARs).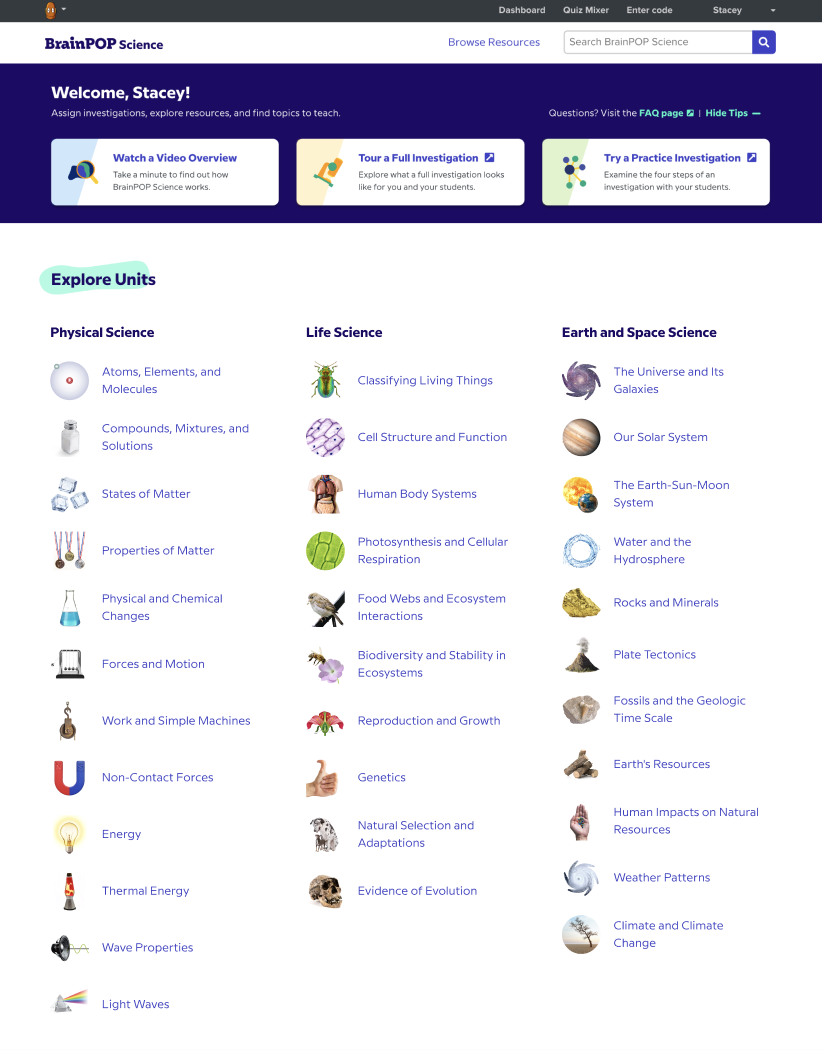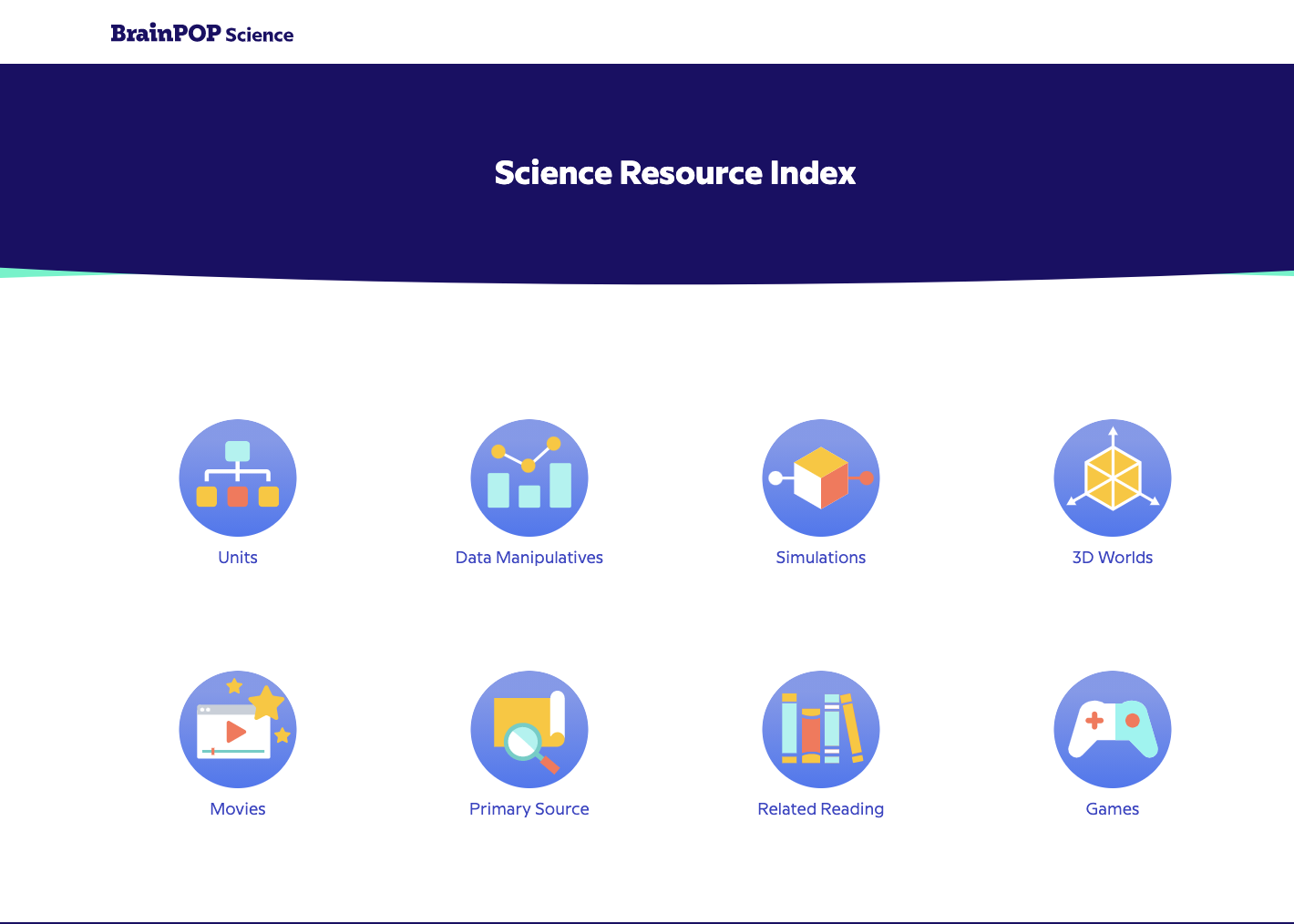 You can also view standards alignments and download the PDF Teacher Resources from an Investigations page. Teacher Resources include:
Investigation Overview

Investigation Teacher Guide

Answer Keys

CER Rubric and Examples
For additional FAQs, go here!