Using any voice recording features, such as recording audio for Make-a-Movie or using Hear It Say It on BrainPOP ELL, requires that you enable access to your microphone in your browser.
When you first use a tool on BrainPOP that requires microphone access, you will be prompted to accept or deny access; please select Accept so it will be enabled.
If you have previously denied access, you may encounter issues using your microphone. You will see an error message like this: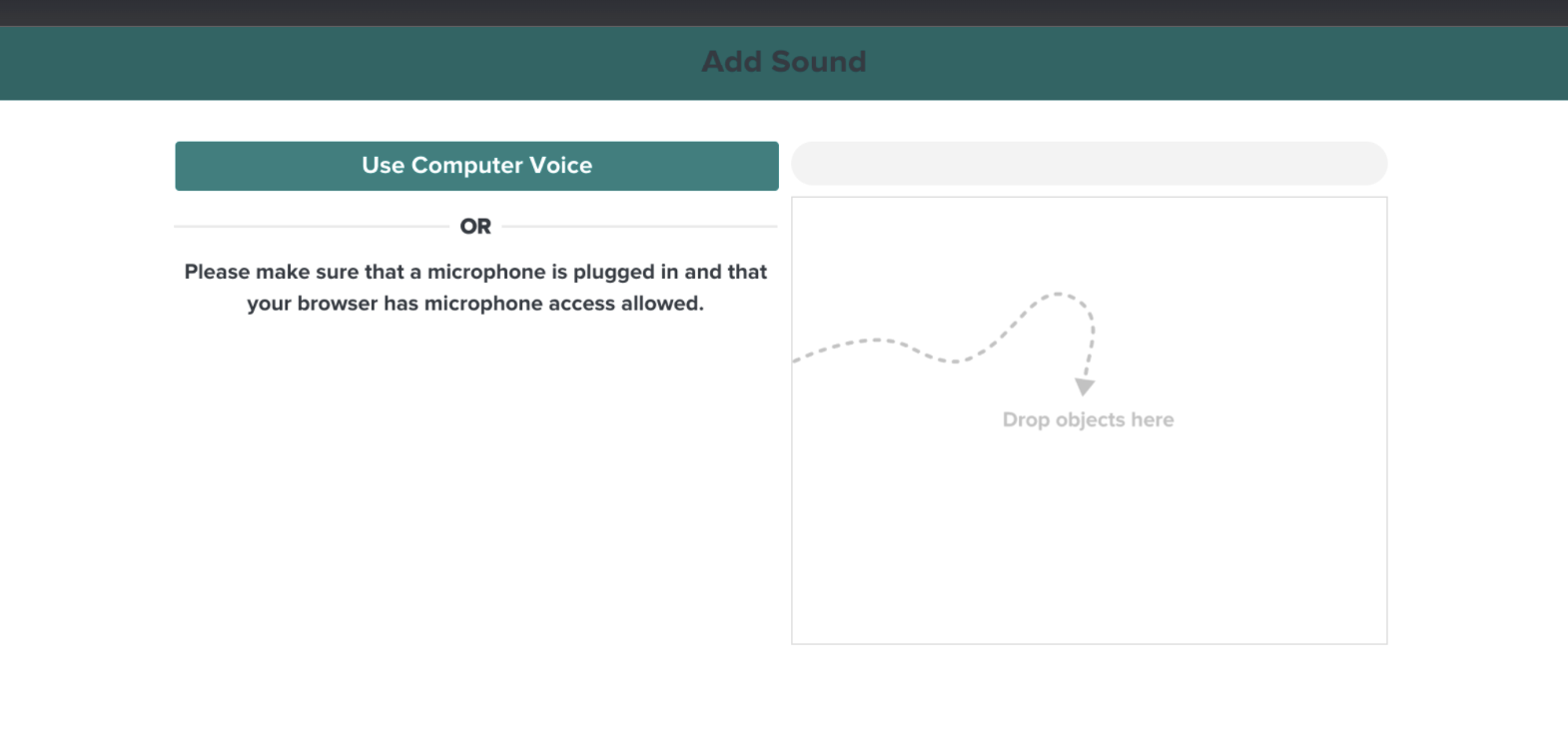 If you're seeing this message, make sure to check that you have microphone access enabled in your browser, using the instructions below for the browser you are using:
Google Chrome
To check your microphone settings:
Open Chrome

.
At the top right, click More

>

Settings.
Click

Privacy and security > Site settings >

Microphone.

Select the option you want as your default setting.

Review your blocked and allowed sites, and check that BrainPOP is not blocked.
If it is blocked:

Under "Not allowed to use your microphone," select the site's name and change the microphone permission to "Allow."
If you're using a Chrome device at school, your network administrator can set camera and microphone settings for you. If that is the case, you may not be able to change them here, and you may need to ask your admin for help.
Safari
To check your microphone settings:
Open the Safari app

on your Mac.
At the top left choose Safari > Preferences, then click Websites.
The settings you can customize are listed on the left. Select Microphone.

Select BrainPOP from the list of websites, then choose "Allow."
Firefox
To check your microphone settings:
Open Firefox.

In the Menu bar at the top of the screen, click

and select Preferences.
Click Privacy & Security from the left menu.
Scroll down to the Permissions section.
Click the Settings... button for the Microphone option.
Firefox displays the websites with saved Allow or Block permission.

Use the Allow/Block dropdown menu to change permission to "Allow."
Click Save Changes.
Still having trouble?
Make sure that your device has a functioning microphone built in, or that you have an external microphone plugged in.
Try a hard refresh (hold the Shift key while refreshing the page in your browser) and clearing your cache & cookies
If you are still experiencing issues with recording audio, fill out the ticket request form here and one of our agents will help you out as soon as they can!