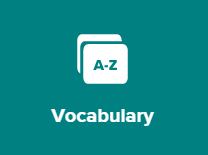 Vocabulary accompanies every BrainPOP topic, allowing students to interact with topic-specific vocabulary words. Students can listen, define, and use each word in a sentence. Students also have to option to add up to four additional vocabulary terms.
Frequently Asked Questions
Can I access Vocabulary from my mobile device?
Yes. Vocabulary is accessible on desktop, tablet and phone.